Offering more precise positioning, the DJI Matrice 210 RTK quadcopter is a sophisticated industrial tool. The RTK maintains the Matrice 210's power, maneuverability and adaptability to a range of industrial uses.
With RTK — Real Time Kinetics — the Matrice 210 RTK offers centimeter-accurate global positioning. RTK capability enhances the Matrice 210's ability to collect data for surveying, photogrammetry and mapmaking. That makes the 210 RTK especially useful in such applications as engineering, construction and mining.
Even in this form, the 210 RTK remains an economical solution for enterprise users seeking to add a drone to enhance accuracy, reduce costs and save time. It has the ability to carry and use two cameras simultaneously, or one upward-facing camera. An FPV camera for navigating is built in, but you can select the compatible cameras most useful in your field, including models capable of thermal imaging, high-definition video and zooming for detail.
The 210 RTK is built to IP43 resistance, so it can be flown in the rain. It is sized to remain stable in crosswinds, with added stability from its 17-inch propellers. Its foldable body, plus removable batteries, propellers and landing gear, make it easy to store and transport in the included case.
Every Matrice 210 RTK includes:
Foldable body, removable landing gear
Foul-weather resistance
DJI Go 4 flight program
Centimeter-accurate RTK positioning
Subject tracking
Built-in FPV camera
51.4 mph maximum speed
4.3-mile range (extendable)
20-27 minutes maximum flight with varying payloads
Remote controller compatible with smartphones/tablets
16GB microSD card; compatible with card up to 128GB
One top-, two bottom-located gimbal mounts
Automatic/manual camera control
Compatibility with range of thermal-imaging and video/still cameras
Capability for simultaneously mounting thermal, hi-def video cameras
Adaptable to dual controllers
Matrice 210: Powerful Quadcopter
The Matrice 210 is strong enough to lift two cameras simultaneously. That means you can operate side-by-side thermal-imaging and video/still cameras. Fly at up to 51.4 mph. Ascend at more than 11 mph and descend at nearly 7 mph. Because the Matrice has arms that unfold to nearly 35 inches and carry big 17-inch propellers, it is stable in crosswinds up to 22 mph. It can operate at up to 8,200 feet above sea level.
Resistance to Foul Weather, Solid Objects
The Matrice 210 is engineered to IP43 standards. That means it can resist solid objects in excess of 1mm in diameter and water sprayed from all directions, even at a 60-degree angle. With its hard-shell body, the Matrice is usable in light rain. If used over sandy and dusty environments, it should be checked for and cleaned of foreign debris after use. The Matrice 200 series can be flown in temperatures as low as -4F.
Long Range
The Matrice 210 remote controller's signals extend 4.3 miles. An available FPVLR range extender can increase that up to 3x. LE Drones recommends professional installation by its trained technicians unless you have experience installing antenna hardware and firmware. LE Drones installation is fast and economical, involving the shipment of the remote controller only.
DJI Go 4 App
The DJI Go 4 flight control app is available for downloading to a smartphone or tablet. It is compatible with any operating system from iOS 9.0 or later, and Android 4.4.0 or later. The program offers Flight Autonomy and obstacle avoidance.
Remote Controller
The included remote controller sends and receives signals up to 4.3 miles. The controller connects to a smartphone or tablet, which displays drone movement as seen through the built-in, forward-pointing FPV camera. It allows toggling from FPV to camera views. The optional 7.85-inch CrystalSky monitor aids daytime viewing, with a display that's more than four time brighter than most tablets.
Dual Controllers Available
The use of dual remote controllers in a master-slave arrangement is optional. The pilot controls the drone from the master, and the camera operator controls camera movement and video/still recording from the slave. This allows for more detailed data collection during inspections. Additional remote controllers are available from LE Drones.
Intelligent Flight Batteries
Matrice runs on twin batteries. TB50 batteries, at 4280 mAh, are standard. For longer flight time, there are optional TB55 batteries, at 7760mAh. Matrice 200 series batteries must be charged to within 13 percent of each other or takeoff is blocked. If one battery fails during flight, the pilot receives a warning and should land the drone. The batteries are self-heated, allowing flight in freezing temperatures. Insulation stickers are included.
Matrice Sensors
The Matrice has an array of sensors that promote precise hovering without incident. In addition to overhead infrared sensors for obstacle avoidance, Matrice 200 drones have downward and forward visioning sensors. The sensors add extra protection from striking obstacles during inspections.
Onboard, Mobile SDK
Every Matrice 200 drone has an onboard software development kit. This allows development of industry-specific programs. Compatible platforms are Windows, Linux, Embedded Systems STM 32, and ROS. Mobile SDK allows development of mobile apps for Matrice 200 drones.
Diverse Connectivity
Matrice 210 models have multifunction I/O ports for precision analog-to-digital conversion, pulse-width modulation and digital I/O functionality.
The M210 builds on the features from the M200 with the ability to mount multiple payload configurations – one single downward facing gimbal, dual downward-facing gimbals, or one upward-facing gimbal. The dual gimbal configuration unlocks 5 different combinations, please refer to the following table to properly mount your cameras. Left and right gimbal port is determined from the perspective of looking directly at the nose of the drone.
The M210 adds additional connectivity and power ports to support third party sensors and accessories. The M210 has the capability to support additional sensors in the future and additional payloads can be mounted on top of the aircraft. Each purchase of the M210 models comes with DJI's CrystalSky monitor for enhanced operations.
Compatible High-Performance Cameras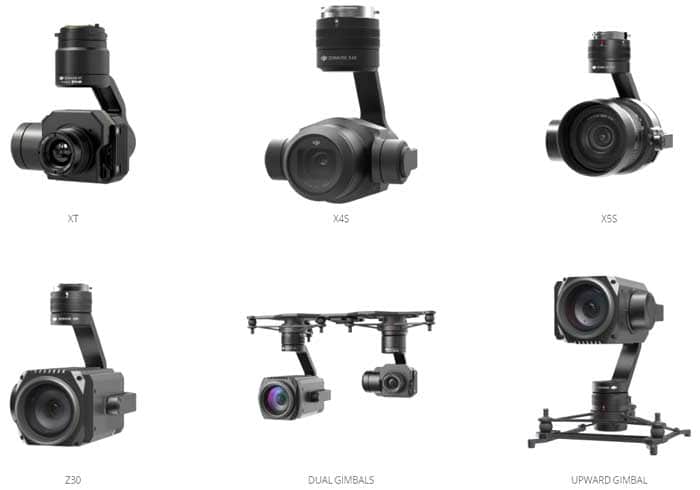 Available are a range of professional-level Matrice-compatible cameras:
XT — With thermal imaging by FLIR, the Zenmuse XT camera reveals heat sources, including at night. Available in four fixed-lens options. Imaging at 640/30fps or 336/30fps, depending on model. Best uses: Electrical tower inspections, solar panel inspections, search and rescue, firefighting, precision agriculture.
Z30 — How close a view do you want, and from how far away? The Zenmuse Z30 a fixed lens that zooms up to 30x, with 6x distortion-free digital zoom, for a maximum 180x magnification. Best uses: Cell tower inspection, wind turbine inspection, firefighting.
X4S — Detailed images are captured by a huge 1-inch sensor on the Zenmuse X4S. Its leaf shutter eliminates rolling distortion to capture fast action with a 24mm-equivalent lens. The X4S records 4K video at 6 fps in H.265 for superior slow motion, or 4K at 30 fps in h.264. Transfer rate is 100mbps. Stills are 20MP shot in bursts up to 14fps. It has fast autofocus. Best uses: High-quality aerial video and stills, including mapmaking.
X5S — With a range of interchangeable lenses and two zoom lenses, the Zenmuse X5S allows you to select the focal lengths that are ideal for your needs. Video is recorded in 5.2K or 4K. Stills are recorded in 20.89MP and shot in bursts up to 20fps. Aperture and shutter control is automatic or manual. Best uses: High-quality aerial video and still photography, including mapmaking.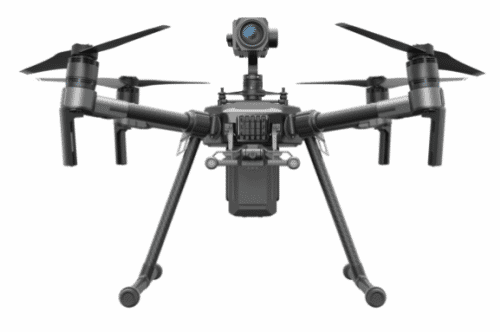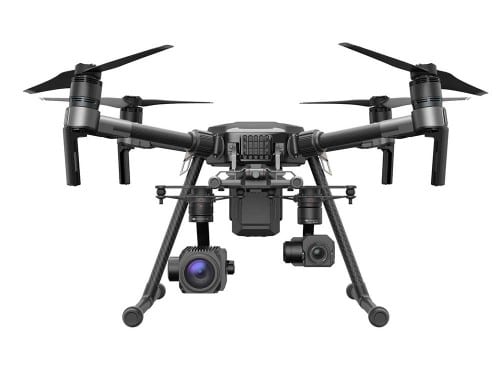 Always Ready
The M200 Series drones fold down in a snap and unfold just as quickly. Gimbal mounting plates and aircraft arms stay mounted during transportation so that you're ready to fly within minutes.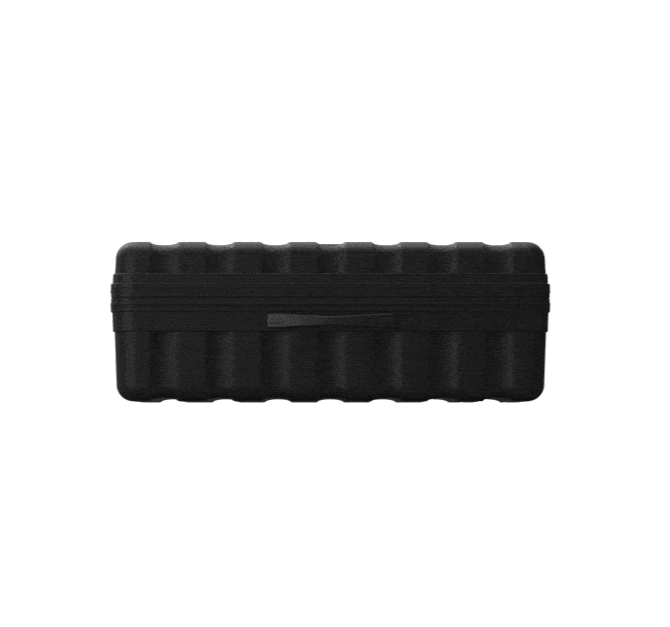 The DJI Go 4 flight control app is available for downloading to a smartphone or tablet. It is compatible with any operating system from iOS 9.0 or later, and Android 4.4.0 or later. The program offers Flight Autonomy and obstacle avoidance.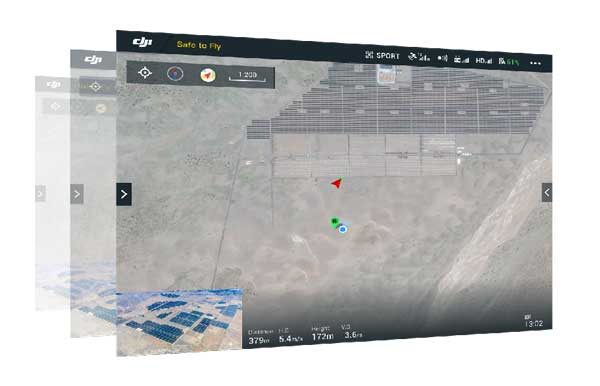 Matrice 200 Has Broad Applications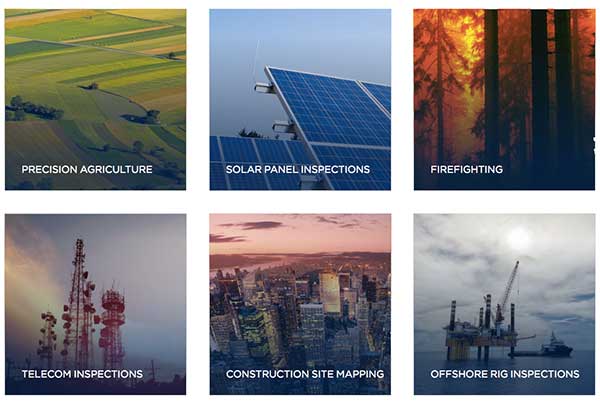 The Matrice 200 can be applied to many professional uses, in addition to high-quality aerial video production and photography:
Firefighting: A Matrice mounted with a Zenmuse XT, an infrared camera that records thermal images, can detect heat sources, making it a lifesaving tool for firefighters. A Matrice so equipped can hover over a fire scene and reveal fire in walls and roofs. That helps firefighters know where to attack the blaze, step on a roof safely, and vent smoke. It also can spot hotspots that need further attention.
Search and Rescue: An XT-equipped Matrice can scan snow from an avalanche, or the rubble left by an earthquake, fierce storm, explosion or terrorist attack for heat sources that may indicate buried survivors. It can also detect victims of a derailment or air crash who might have taken shelter in dense woods.
Police and Law Enforcement: Surveillance is conducted away from the subject, with automatic tracking of the subject as he moves. Close-up evidentiary and identification photos can be taken with zoom lenses.
Security: Thermal imaging can spot intruders hiding inside or outside buildings, and escapees hiding in dense foliage. Dogs may pick up the scent, but the Matrice can determine how far away escapees are, and it may capture images that show whether they are armed. The Matrice can patrol a sprawling roof, and it can monitor a perimeter day or night faster than a team in a vehicle or on foot. It also can view large areas that may mandate a tall view, such as a freight yard or prison yard.
Utility Inspections: A thermal-imaging Matrice can spot leaks in solar panels, pipelines (even if buried) and high-tension lines. Mount a thermal camera or video/still camera consecutively on a Matrice 200 to provide detailed looks at hard-to-reach locations, such as the tops of wind turbines and towers.
Telecom Inspections: Inspect cell towers and relay stations without the need to endanger inspectors, who remain on the ground.  Images can be shared simultaneously and recorded for later study.
Construction: Use the Matrice in most phases, beginning with aerial imaging and data gathering for making site and topographical maps, and for building 2D and 3D models. Inspections of tall structures become easier, faster and safer, and aerial photos detailing progress can be shared with regulators, decision-makers and shareholders.
Infrastructure Inspections: The Matrice 200 speeds inspection of widespread networks of catenary lines for trolleys and trains. The upper stories of tall buildings, bridges, overpasses, roofs and other hard-to-access areas are more easily viewed with a zoom lens.
Agriculture: With a thermal camera-equipped Matrice 200 and a subscription to an online analytical service, farmers can map crops faster than from roads or fields. They can use the data collected to determine crop choices, seed selection, irrigation, planting sequences, the presence of diseases and treatment, and potential yields.
Mining: Aerial imaging and data collection can be used for highly accurate surveys and for building maps and 2D and 3D models. The Matrice can view hazardous and poorly accessed spots, such as high walls and muck piles. The Matrice also can be flown visually indoors, even underground.
Intelligent Flight Features
The M200 Series drones utilize computer vision for intelligent flight modes to help more efficiently collect data. These features are available for multiple DJI sensors, enabling advanced shots such as zooming while tracking an object:
Spotlight – to lock the camera onto a subject during flight while the aircraft moves freely
Point of Interest – to circle around an object for a smooth orbit
Tripod – to fine-tune position and angle for position framing and safe navigation in narrow environments
ActiveTrack – to follow a person or object while keeping it in frame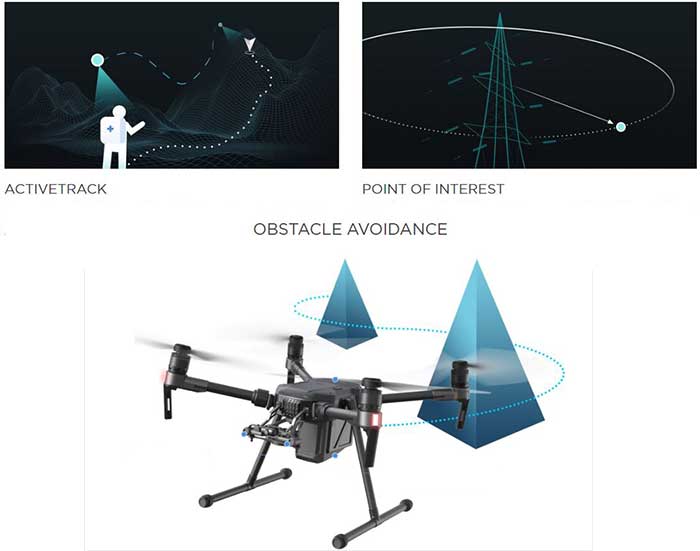 DJI Pilot & DJI FlightHub
The DJI Pilot app is compatible with DJI FlightHubTM, a web-based software package allowing teams to share real-time data with offsite parties over the Internet. This includes remote emergency control rooms keeping track of first response teams or asset management centers inspecting global infrastructure networks. In an easy-to-use control center, DJI FlightHub lets users plan flights with multiple drones and keep track of each aircraft's status. An offsite control room can simultaneously monitor live feeds and can remotely control gimbal and camera. The software enables managers to plan flights in advance using waypoints and dynamic geofencing.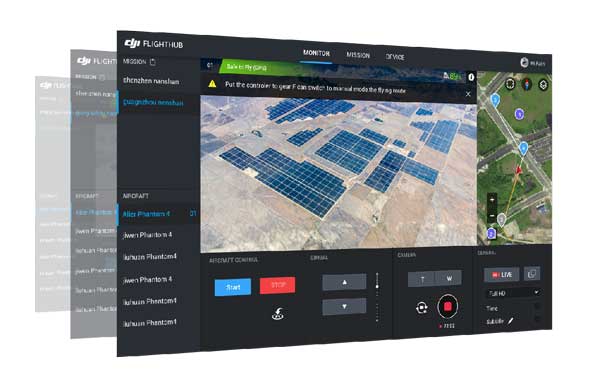 This page will be updated as case studies are created.