ALL IN ONE
The compact and foldable design of the DJI Air 2S lets you capture breathtaking video and aerial images with a large 1″ sensor for improved clarity, rich color, and impressive low-light performance. . Take this all-in-one aerial powerhouse along anywhere to experience and record your world in stunning detail.
APAS 4.0 Obstacle Avoidance: The DJI Air 2S features the upgraded Advanced Pilot Assistance Systems (APAS 4.0) which allows DJI Air 2S to autonomously avoid obstacles in more complex scenarios and at high speeds. The DJI Air 2S has the ability to perceive its environment in four directions: up, down, forward, and backward. These enhanced obstacle sensing capabilities mean the DJI Air 2S is better able to avoid obstacles automatically, even when flying at high speeds. One of the reasons obstacle sensing is such a benefit for pilots of any skill level is that it lets them focus on the shot instead of worrying about surroundings. Pilots should always be aware of their environment and fly safely, but obstacle avoidance is indispensable when trying to get cinematic shots in complex environments like a wooded forest or a rocky coastline. The DJI Air 2S is equipped with both an infrared sensing system, plus forward, backward, upward, and downward visions systems. The auxiliary bottom light located on the underside of the aircraft improves visibility for the downward vision system in weak light conditions.
The forward, backward, upward, and downward visions systems consist of two cameras each and the infrared sensing system consists of two 3D infrared modules.
The downward vision system and infrared sensing system helps the aircraft maintain its current position, hover in place more precisely, and to fly indoors or in other environments where GNSS is unavailable.
Automatic Dependent Surveillance-Broadcast (ADS-B): The DJI Air 2S provides an added layer of airspace safety with the industry-leading Air Sense safety system. This receives Automatic Dependent Surveillance-Broadcast (ADS-B) flight location information from airplanes and helicopters in your area that transmit ADS-B signals, displays those aircraft on a map, and provides audio and visual alerts through the LCD screen on the included Smart Controller to help you keep the drone out of the way of those aircraft.
Imaging System | Big World, Big Sensor
OcuSync 3.0 Technology (O3): The Air 2S utilizes DJI's most up-to-date and upgraded OcuSync 3.0 transmission technology (O3) for a strong and reliable wireless transmission signal with ultra-smooth, clear, and reliable image footage. This 1080p feed at distances of up to 7.45 miles (12km) away allows you to not only see more, but to fly further in a safe and reliable way. OcuSync 3.0 (O3) and four dual-band (2.4/5.8GHz) integrated antennas on the DJI Air 2S support omnidirectional signal reception, offering sensitive and stable signal when the drone is flying above or ahead. A stronger transmission signal is critical when flying a drone. An increased signal means pilots can fly farther and see more. It also means increased safety as loss of signal is less likely. And with a low-latency feed, pilots are more able to get the precise shots and movements they want for a better flight and filming experience.
1080p HD Video: OcuSync 3.0 (O3) has a video transmission distance of up to 7.45 miles (12 km) and can deliver a 1080p FHD resolution livestream directly from the drone's camera to the LCD screen of the Smart Controller. Now, you can enjoy more freedom for exploring and more clarity for that perfect shot.
Dual Band: OcuSync 3.0 (O3) utilizes  2.4/5.8GHz dual-frequency communication and automatically switches to the best channel with the lowest interference in real time and low latency (120-130 ms). This significantly improves the aircraft's anti-interference ability in challenging environments, increasing flight safety.
Flight Modes: The DJI Air 2S has three Flight Modes (Normal/Sport/Cine), plus a fourth Flight Mode (Attitude) that the aircraft switches to in certain scenarios. Flight Modes can be switched via the Flight Mode switch on the Smart Controller.
Normal Mode: In this mode, the aircraft utilizes GNSS, plus the Forward, Backward, Upward and Downward Vision Systems, as well as the Infrared Sensing System to locate itself and stabilize. When the GNSS signal is strong, the aircraft uses GNSS to locate itself and stabilize. When the GNSS is weak and the lighting conditions are sufficient, the aircraft uses vision systems to locate itself and stabilize. Maximum speed is 35.8 mph in Normal mode. (Cine mode is based on Normal mode and the flight speed is limited, making the aircraft more stable during photo and video shooting.)
Sport Mode: In Sport mode, the aircraft uses GNSS for positioning and the aircraft responses are optimized for agility and speed making it more responsive to control stick movements. It can reach a maximum speed of 42.5 mph in Sport Mode. The obstacle avoidance system is disabled in Sport mode, which means the aircraft cannot sense obstacles and avoid them automatically.
Attitude Mode: The aircraft automatically changes to this mode when the Vision Systems are unavailable or disabled and either the GNSS signal is weak, or the compass is experiencing interference. When the Vision Systems are unavailable the aircraft is not able to position itself or auto-brake, so potential flight hazards exist when flying in this mode. Environmental factors such as wind can result in horizontal shifting, which may present hazards – especially when flying in confined spaces.
Automatic Takeoff & Landing: The DJI Air 2S will automatically take off and hover at approximately 3.9′ above the ground. The aircraft will also automatically land on its own using its integrated vision sensing system.
Return To Home (RTH): The Return to Home (RTH) function brings the aircraft back to the last recorded Home Point when the GPS signal is strong. It does this by recording its real-time flight path, and when you choose to return home or if the control signal gets lost or the battery is low, the aircraft will fly towards the Home Point, bypassing any signal obstruction and reconnect to the controller. When the Air 2S detects an obstacle, it will choose a proper path to bypass it according to its altitude. The aircraft will match the images of the ground with those captured at takeoff for increased landing accuracy. When landing automatically, the Air 2S will scan the terrain of the landing area in real-time, then warn the user and safely hover in place if it detects an obstacle.
Turn On the Night
Capture the allure of the world, even as it darkens. Thanks to a high dynamic range, high resolution, and accurate color reproduction, even low-light scenes are sharp and vibrant.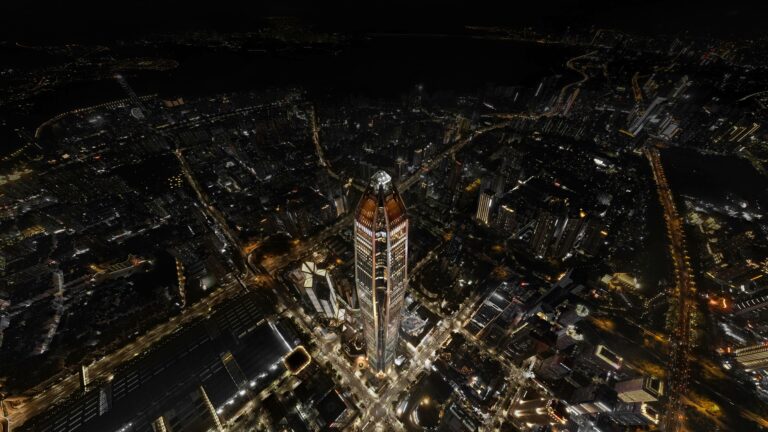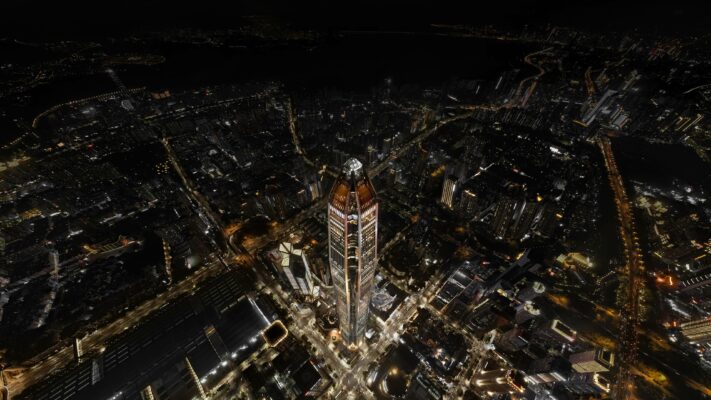 Flight Recorder: Flight data including flight telemetry, aircraft status information, and other parameters are automatically saved to the internal data recorder of the DJI Air 2S. The data can be accessed using the DJI Assistant 2 (Consumer Drones Series) software program that is compatible with Windows PC and Mac.
Carrying Case: The included shoulder bag has been tailored for the DJI Air 2S aircraft, Smart Controller, and included accessories. It can be organized neatly, and it is compact and comfortable to carry. Thanks to the internal partition design, the shoulder bag can accommodate the Air 2S aircraft and its included accessories, plus other equipment.
One Billion Colors
Fully immerse yourself in all the hues of your environment. The 10-bit Dlog-M color profile can record up to one billion colors while retaining all the little details that make footage pop.
Gimbal Camera
3-Axis Gimbal: The DJI Air 2S features a full stabilized 3-axis gimbal. The 3-axis gimbal provides stabilization of the Air 2S' camera, allowing you to capture clear and stable images and video. The mechanical pan range is -100 degrees to +100 degrees, the mechanical tilt range is -135 degrees to +45 degrees, and the mechanical roll range is -45 degrees to +45 degrees. You can use the gimbal dial on the Smart Controller to control the tilt of the camera from -90 degrees to +24 degrees. There are two gimbal operations modes available – Follow Mode and FPV Mode.
Follow Mode: The angle between the gimbals orientation and aircraft front remains constant at all times.

FPV Mode: The gimbal synchronizes with the movement of the aircraft to provide a first-person flying experience.
1″ CMOS Image Sensor: DJI Air 2S is capable of 5.4K/30fps and 4K/60fps video. This allows you to capture more visual information in every shot, ensuring richer, more dynamic, high-quality results that are professional level. The 1″ CMOS image sensors delivers countless benefits, especially on a drone as compact and lightweight as the DJI Air 2S. A larger sensor means bigger pixels, and each pixel can collect more visual information. That means you can enjoy higher dynamic range, better resolutions, more accurate color, and excellent details in both the highlights and low lights of any scene. It also ensures more flexibility when editing footage.
Low Light Performance: When it comes to low-light performance, a bigger sensor is critical as it's able to take in and process more information. The 1″ sensor on the DJI Air 2S allows for the individual pixels to be larger. The purpose of a pixel is to absorb light and produce an electrical signal, which is then converted into a digital image signal. The more light the sensor can absorb, the stronger the image signal will be. So, a sensor with larger pixels will collect more light data and have better performance in low-light situations. A bigger sensor will allow you to shoot at a lower ISO, which produces cleaner overall images.
Dynamic Range:  The larger sensor and bigger pixels on the DJI Air 2S mean that each pixel can collect more information compared to smaller pixels. This allows for more information in both the highlights and shadows of an image, letting users capture richer details and more nuance in any environment.
Editing Footage: The larger 1″ CMOS image sensor also gives you more freedom when it comes to your editing. Whether it's brightening up a dark image, recovering details in the shadows/highlights, pushing colors further, or even cropping.
5.4K Video: The DJI Air 2S lets you capture stunning footage in 5.4K/30fps, 4K/60fps, or 1080p/120fps. These resolutions ensure video results are as epic and dynamic as the shooting location and retain extreme quality and details – even when shown on larger displays. The 10-bit Dlog-M color profile can record up to one billion colors while retaining all the tiny details that make footage pop for a fully immersive video experience. You are also able to digitally zoom in video footage. Video is recorded in MOV or MP4 (H.264/MPEG-4 AVC, H.265/HEVC). The HEVC (H.265) video codec records more image information, uses less storage, and preserves the dynamic range and detail of your footage, ensuring next-level content.
Video Resolution: 5.4K (5472×3078) @ 24/25/30fps, 4K (3840×2160) @24/25/30/48/50/60fps, 2.7K (2688×1512) @ 24/24/30/48/50/60fps, or 1080p (1920×1080) @ 24/25/30/48/50/60/120fps
Slow Motion Mode: 1080p (1920×1080) @ 120fps
ISO Mode: Auto (100-3200) or Manual (100-6400)
Digital Zoom: 4x (4K @ 24/25/30fps or 2.7K @ 48/50/60fps), 6x (2.7k @ 24/25/30fps or 1080p 48/50/60fps), and 8x (1080p 24/25/30fps)
20MP Photos: With it 1″ CMOS image sensor, the Air 2S can capture impressive 20MP (5472×3648) photos. Still images are recorded in JPEG or DNG (RAW). Now, you will be able to shoot RAW format photos with a dynamic range of up to 12.6 stops to capture more visual information in every scene, even when lighting conditions are bad or complex. This provides more flexibility in post-processing, giving creators more possibilities to get the look they want. You can select Auto (100-3200) or Manual 100-12800) ISO mode.
Single & Burst Capture a single 20MP still-image every-time the shutter button is pressed or use Burst mode to capture 3, 5, or 7 images at a time with one shutter-button press.
SmartPhoto integrates scene recognition, HyperLight, and HDR into one mode for optimal results; scene recognition optimizes different camera parameters for various scenes and supports intelligent recognition of five categories – sunset, skies, grass, snow, and trees.
AEB & Timed: Auto exposure bracketing can be set to 3 or 5 frames in 0.7EV steps. Interval shooting of 2, 3, 5, 7, 10, 15, 20, 30, or 60 seconds.
Panoramas: You can choose from 180-degree, Wide Angle, Vertical and Sphere panoramas; the aircraft will automatically take several photos according to the selected type of Pano and generates a panoramic shot.
FocusTrack: Selecting and tracking a subject is easier than ever with the DJI Air 2S thanks to FocusTrack. This suite of tracking technologies features several advanced options for automatic shooting with your subject in center frame. FocusTrack is not available while recording in 5.4K/30fps, 5.4K/25fps, 5.4K/24fps, 4K/60fps, 4K/50fps, 4K/48fps, 2.7K/60fps, 2.7K/50fps, 2.7K/48fps, 1080p/120fps, 1080p/60fps, 1080p/50fps, or 1080p/48fps.
ActiveTrack 4.0 lets you follow your subject smoothly while autonomously avoiding obstacles. Even if the subject is momentarily lost, you can quickly resume tracking during flight.
Spotlight 2.0: the camera stays centered on a subject as you fly in a spiral or take close-up shots. The zoom function also enables clear shots at a distance for increased safety.
POI 3.0 allows you to easily take a perfect circle shot while keeping your subject centered.
Autonomous Functions
Smart Features – Perfect Shots
MasterShots provide automatic aerial imaging and editing. MasterShots combines 10 to 15 automatic flight routes at a time, which are flown in sequence while the drone focuses on a subject of your choice and records. According to the type and distance of the target, the DJI Air 2S automatically selects from Proximity, Landscape, and Portrait templates and executes a cinematic sequence of shots. It even creates an automatic video clip afterward, edited with music, filters, and smooth transitions.
QuickShots: Capture cinematic video clips automatically with QuickShots. With just a few taps, Air 2S plans and flies a complicated aerial route for a professional-quality shot. You can even add music, effects, and filters with super-intuitive Story templates so you can share your masterpiece directly to social media.
Asteroid: The aircraft flies backward and upward, takes several photos, and then flies back to the starting point. The video generated starts with a panorama of the highest position and then shows the descent.
Boomerang: The aircraft flies around the subject in an oval path, ascending as it flies away from its starting point and descending as it flies back. The aircraft's starting point forms one end of the oval's long axis, while the other end of its long axis is at the opposite side of the subject from the starting point.
Circle: The aircraft automatically takes photos while flying around the selected subject to generate a timelapse video.
Course Lock: can be utilized in two ways. One, the orientation of the aircraft is fixed, but a subject cannot be selected. Second, the orientation of the aircraft is fixed, and the aircraft flies around a selected object.
Dronie: The aircraft flies backward and ascends with the camera locked on the subject.
Free: The aircraft automatically takes photos and generates a timelapse video. Free mode can be used while the aircraft is on the ground. After takeoff, you will control the aircraft's movements and gimbal angle using the Smart Controller.
Helix: The aircraft ascends and spirals around the subject.
Hyperlapse: The Air 2S supports Hyperlapse videos, allowing you to warp time and space for especially stunning footage. Best of all, you can achieve this shot without complex post-processing. Choose from Free, Circle, Course Lock, and Waypoint modes, select the shooting location, and the built-in DJI Fly app on the Smart Controller will do the rest.
Rocket: The aircraft ascends with the camera pointing downward.
Waypoint: The aircraft automatically takes a photo on a flight path of two to five waypoints and generates a timelapse video. The aircraft can fly in order from waypoint 1 to 5 or 5 to 1.
microSD Card Slot: In addition to its internal 8GB flash memory, the Air 2S features a microSD card slot for storage of MP4/MOV videos and JPEG/RAW photos on a microSD/SDHC/SDXC memory card (up to 256GB). A UHS-I Speed Grade 3 rating microSD card is required due to the fast read and write speed necessary for high-resolution video data.
ND Filter Set: The DJI Air 2S includes ND4, ND8, ND16, and ND32 filters. These high-quality, light reducing ND filters provide advanced users with precise control over shutter speed and ensure clean footage even when the shutter opens at 180-degrees with low ISO during recording. Made of high-quality light reduction materials, this ND filter set helps you capture authentic colors and stunning high and low-light details. A precise mechanical design ensures a dependable fit and lens seal during flight.
RC Pro Controller
High Performance Processor: The DJI RC Pro Controller is equipped with the latest-generation processor, offering stronger performance and lower power consumption. This results in 4x improved CPU performance, 7x improved GPU performance, and 20% lower power consumption over its predecessor. DJI RC Pro Controller brings a more durable, stable, and smooth system that simply enhances flying.
5.5″ HD Screen: The DJI RC Pro Controller has a built-in 5.5″ HD (1080p) screen, providing an ultra-bright display to keep your live feed easily viewable, even in direct sunlight outdoors. At one thousand nits, the display is approximately twice as bright as conventional smartphone and tablet devices. The display screen's brightness can be manually or automatically adjusted. When in Auto mode is enabled, the DJI RC Pro Controller's built-in light sensor will automatically adjust the brightness level according to the surrounding environment. By enabling the SRE (Sunlight Readable Enhancement) function, the display screen will be automatically enhanced and optimized so that content is still clearly visible even under direct sunlight. The 5.5″ HD (1080p) screen can be used for live-view and video playback.
OcuSync 3.0 Full-HD Video Transmission: Equipped with OcuSync 3.0 Full-HD video transmission technology, the DJI RC Pro Controller supports automatic switching between 2.4GHz and 5.8GHz, reducing the influence of environmental interference on drone operation and image quality. This also ensures reliable long-range transmission at distances of up to 7.45 miles (12km). Once initially paired with the DJI Air 2S drone, the DJI RC Pro Controller will automatically connect to your drone as soon as it is powered on so you can take off fast and never miss a moment of the action.
Joystick, Push-Button, & Touchscreen Controls: The DJI RC Pro Controller features joystick & push-button, and touchscreen controls to operate the DJI AIR 2S drone. The joystick and push-button controls operate basic flight and camera functions, while the touchscreen gives you access to more advanced flight and camera features. Customizable buttons can quickly enable or disable frequently used functions.
Flight Controls: Use dual 4-way joystick controllers to operate your drone's flight pattern; including Orientation (Yaw) Up/Down (Throttle), Forward/Backward (Pitch), and Left/Right (Roll). You can also use the Flight Mode switch to select between Normal, Sport, and Cinema. In addition, you can press and hold the "RTH" button to start the Return-to-Home procedure. The touchscreen gives you access to Intelligent Flight Modes and Flight Settings.
Camera Controls: Use the controller's Shutter button to shoot still photos and the Record button to capture videos. A multi-function dial lets you adjust a variety of camera settings such as ISO, shutter seed, exposure, focus, and aperture. The touchscreen gives you access to Intelligent Camera Modes and Camera Settings.
Embedded DJI Fly app: The DJI RC Pro Controller is equipped with a customized Android operating system, as well as embedded DJI Fly application software, allowing complete control of the DJI AIR 2S drone without the need for a smart mobile device.
Flight Controls: Control the flight pattern of your AIR 2S drone, while viewing a live video feed (up to 1080p) and flight telemetry data directly from the touchscreen of the DJI RC Pro Controller. A brand-new Flight Record feature automatically synchronizes flight data,  keeping it readily accessible for you to review at any time.
Camera Functions: The embedded DJI Fly app gives you complete control of your camera and a live HD video feed right from the DJI RC Pro Controller's touchscreen. You'll be able to adjust camera settings and use this real-time view to line up the perfect shot. You can snap photos and record vides with just a tap of the controller's touchscreen.
Intelligent Flight Modes: Create professional aerial videos and photos effortlessly with advanced Intelligent Flight Modes that can be accessed through the embedded DJI Fly app on the DJI RC Pro Controller. Capture shots that would once have required practice and training with just a few taps of your finger.
Edit & Share: Use music and video templates to create productions ready for sharing in minutes, then share them with a tap on the embedded DJI Fly app and the controller's touchscreen. For even more customization, import your own music and clips, add filters, and tweak your sound mix. How your videos look is up to your imagination.
SkyTalk feature is an effortless way to let others enjoy your aerial experience. Use it to live-stream your drone's camera view directly to social media platforms like Facebook and Instagram. It also allows you to create and share short videos instantly. Live-Stream requires a Wi-Fi connection with Internet access.
Audio/Video Playback: Your DJI RC Pro Controller's recorded audio/video can be played back on its 5.5″ HD screen and built-in speaker. The DJI RC Prod supports up to 4K/120fps video playback in H.264 or H.265 codecs. It is also equipped with a mini-HDMI output that lets you playback your recorded audio/video files on an external display monitor or TV.
Built-In Microphone & Speaker: The DJI RC Pro Controller features a built-in microphone for recording audio and a built-in speaker for audio playback.
32GB Memory + microSD Card Slot: The DJI RC Pro Controller features a built-in 32GB memory for recording video and photos from the AIR 2S drone, as well as audio from the DJI RC Pro Controller's built-in microphone. The DJI RC Pro Controller is also equipped with a microSD card slot, so you can expand its built-in memory. The DJI RC Pro Controller can record up to 4K video (H.264 or H.265 formats). It supports microSD, microSDHC, and microSDXC memory cards (up to 512GB).
DJI RC Pro supports Wi-Fi 6 protocol to download photos and videos from the aircraft at speeds of up to 80 MB/s onto its built-in 32GB memory or inserted microSD type memory card.
Rechargeable Battery
Rechargeable Batteries: The DJI Air 2S is powered by a high-density, rechargeable lithium-polymer (LiPo) battery that has a capacity of 3500mAh and voltage of 11.55V. This battery can provide a maximum flight time of up to 31 minutes (at 11 mph with zero wind) and a hover time of 30 minutes (with zero wind). The included RC Pro Controller is equipped with a rechargeable lithium-polymer battery with a capacity of 5000mAH and has a run of approximately 3 hours. Operating temperature for both batteries is 41°F to 104°F. The batteries must be fully charged before using them for the first time.
Intelligent Flight Battery: The DJI Intelligent Flight Battery in the Air 2S adopts the latest technologies to ensure that the flight control system can obtain accurate battery level. This allows it to calculate remaining flight times more accurately. It also gives pilots a full understanding of the overall battery status, including real-time battery cell status, circle number, temperature and more – and all in the DJI Fly app on the included Smart Controller.
BMS (Battery Management System): As well as monitoring the battery status during flight, the BMS (Battery Management System) also has overcharge and over discharge protection, reducing the likelihood of battery damage. When not in use for extended periods of time, DJI Intelligent Flight Battery automatically discharges to 50% charge, keeping it at an optimum charge level for extended battery life. When flying in cold temperatures, the BMS will activate low-temperature protection and will control power output according to the temperature. This ensures the battery can provide adequate propulsion without damage from the cold.
Battery Charger & Hub: An AC power adapter is included to charge the DJI Air 2S's Intelligent Flight Battery. The AC power adapter also provides one USB (type A) port to charge the built-in battery of the included Smart Controller. The included Charging Hub and power bank adapter lets you charge up to three Intelligent Flight Batteries and the battery of the remote controller at once. The Intelligent Flight Batteries will be charged in sequence according to their power levels, from high to low. It takes approximately 1 hour and 35 minutes to fully charge a single Intelligent Flight Battery.