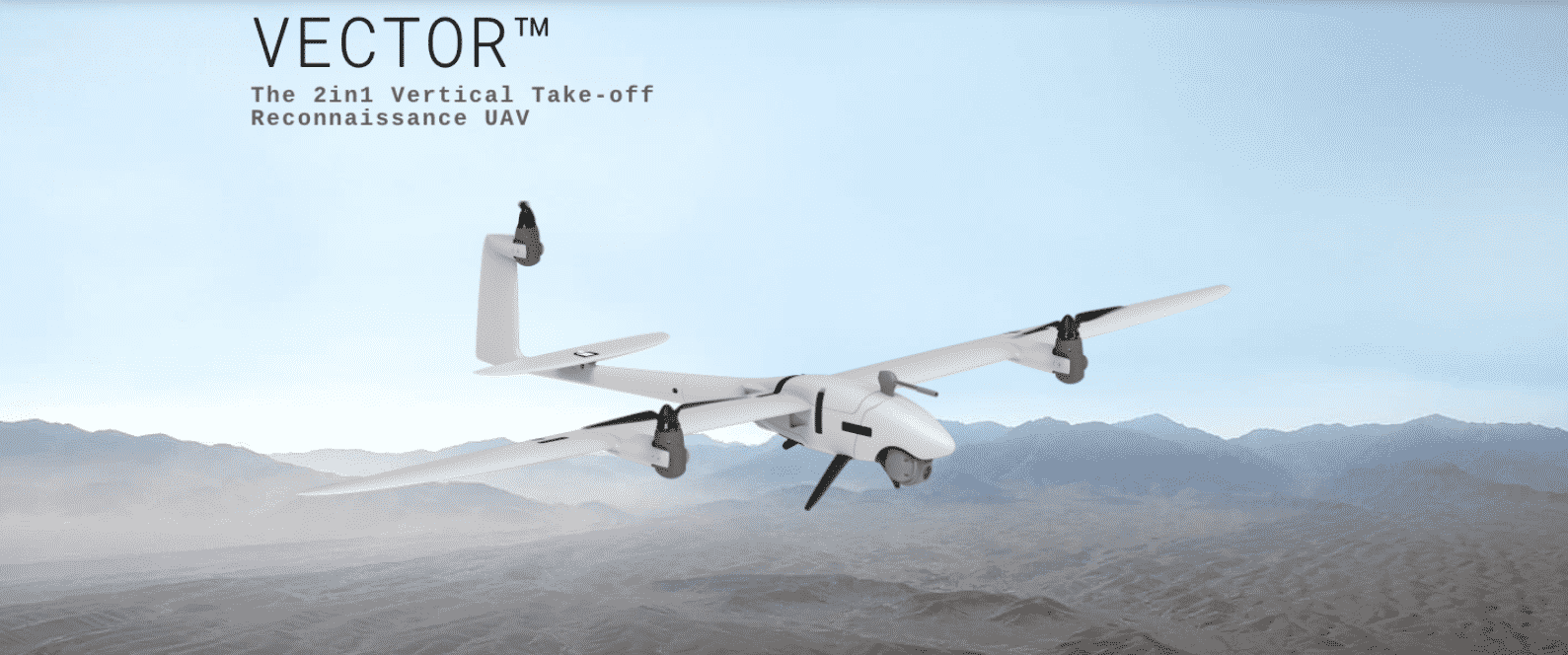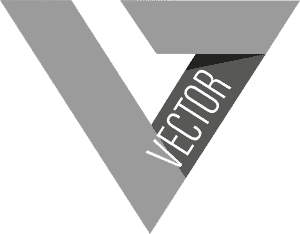 The mathematical definition of a vector fits very well for the latest UAV from Quantum-Systems. It can face any direction: upward, forward or down. That's exactly what Vector  from Quantum-Systems is capable to do. Vertical take-off. Energy efficient long range fixed wing flight and back to a vertical landing. All automatic, no pilot or operator input needed – Just fly.
VECTOR – The 2in1 vertical take-off reconnaissance UAV
Flexible and enduring, the Vector provides flight and surveillance characteristics that are exceeding performance of current UAV platforms in service all over the world. 
The ability to operate in the most difficult terrain (VTOL) combined with extremely low noise emission (motor off silent mode) makes the Vector the perfect UAV for a wide range of non invasive aerial operations. 
An encrypted mesh IP link sends video streams up to a range of 15+ km. A flight time of up to 120 minutes speaks for itself. All combined in a compact and robust electric VTOL UAV.
The 2in1 System design opens up further applications with the "Scorpion" configuration – By removing the wings and attaching a separate set of copter arms a dedicated multi copter platform becomes available for an even wider variety of mission applications. Either use a VTOL fixed-wing or a conventional copter – in both cases you only need one system to train on and to deploy it on site.

eVTOL UAV with extended flight time

Intuitive planning and execution

AES-Encrypted mesh ip data link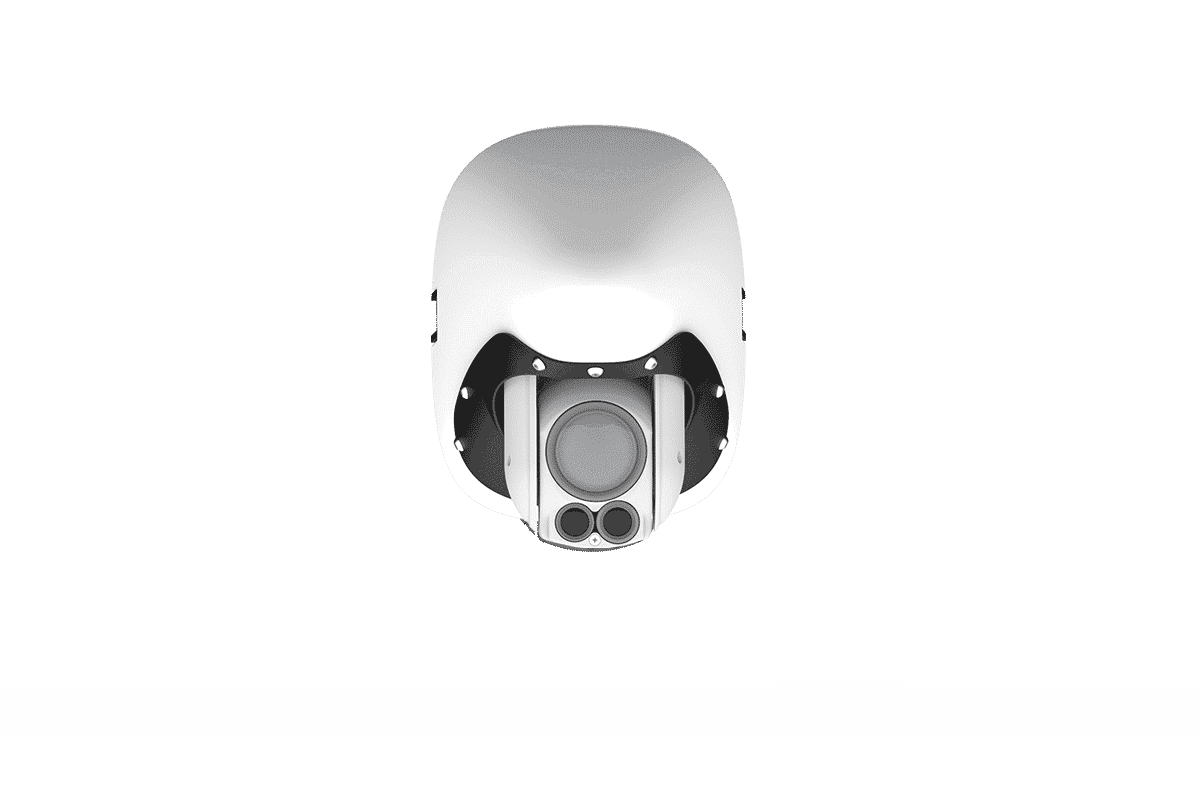 EO: Zoom: 20x optical, 2x digital / 1280×720
IR: Zoom: 4x digital /640×480
Data rate: 5Mb/s (H264)
Weight: 320 g
MISC: KLV-Stream, GeoLock, Image stabilizion, Object tracking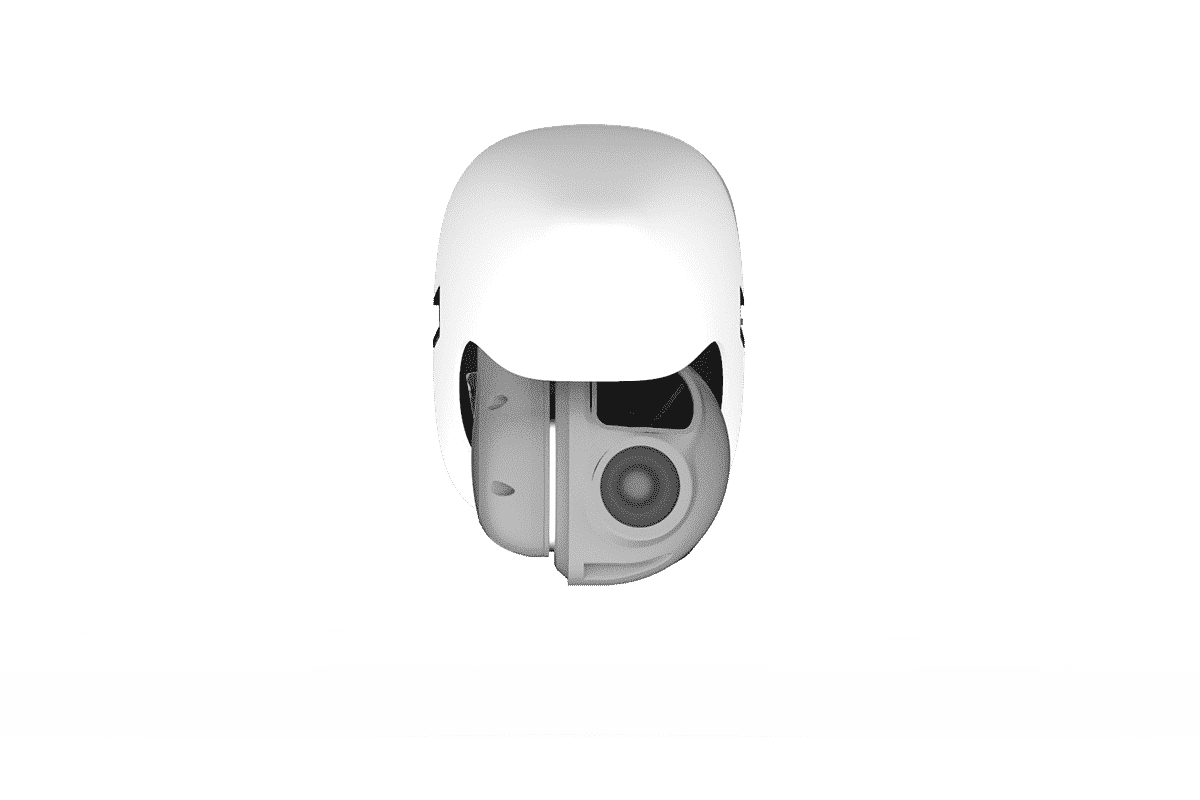 EO: Zoom: 10x optical, 2x digital / 1280×720
IR: Zoom: 4x digital /640×480
Data rate: 5Mb/s (H264)
Weight: 550 g
MISC: KLV-Stream, GeoLock, Image stabilizion
GIMBAL PAYLOAD – INTELLIGENCE IN THE SKY
In order to provide relevant intelligence for better decision making we integrate high value sensors with powerful optics while keeping size and weight at a minimum. The result is state of the art stability combined with unmatched robustness.
Thanks to its modular concept, the front section of Vector & Scorpion can be equipped with different payloads.
Available gimbal solutions for Vector
All sensor changes are done by simply exchanging the complete payload bay in a matter of seconds. No tools required.
Observing targets at day and night with IR capability (EO/IR option) gives you all the flexibility needed. Reading license plates at up to 700m distance with EO 30x zoom option or marking targets at night with IR illuminator (laser option) increase your operational success.
Quantum-Systems is continually working to increase the number of compatible sensors. As the Vector and Scorpion user family grows there will be an ever increasing array of innovative and custom sensors available. Chemical detection, ground penetrating low energy radar, LiDAR or LTE-cell are some we are working on in the future. The message is: the versatility of your platform will grow over time.
QBASE 3D – C2 MISSION SOFTWARE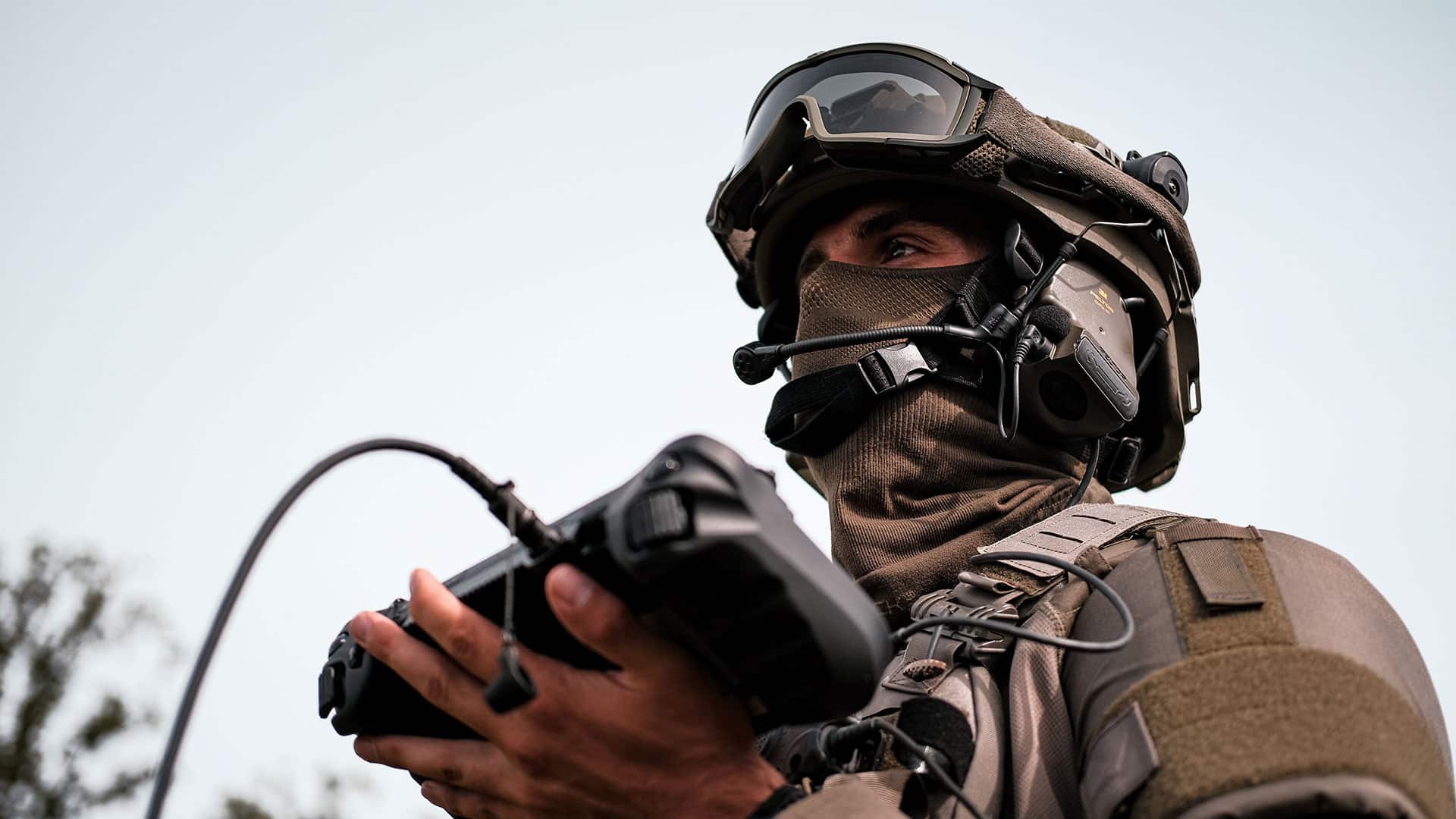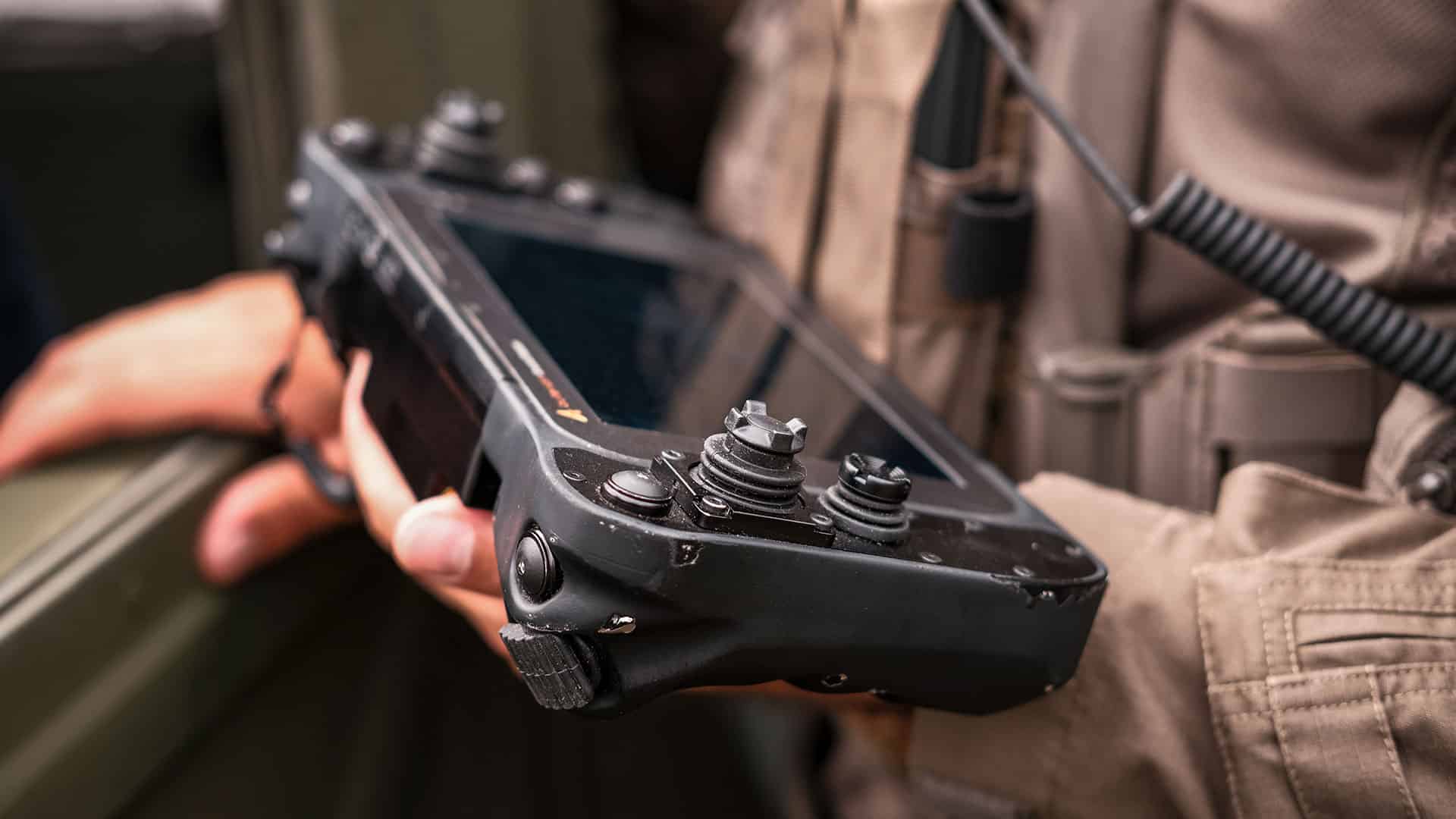 TRANSPORT CASE & BACKPACK
When disassembled, Scorpion and Vector can be transported comfortably and safely by one person. Only a few steps are required to get the systems ready for use.
As standard, the transport case has external dimensions of 850x470x280 mm. It is IP67 (submersible and floating) certified and therefore suitable for the most adverse conditions. As an option, it is also possible to use the all-terrain backpack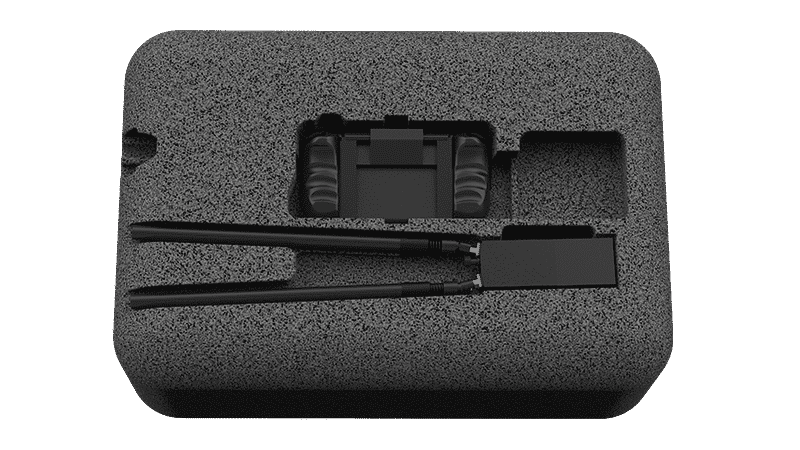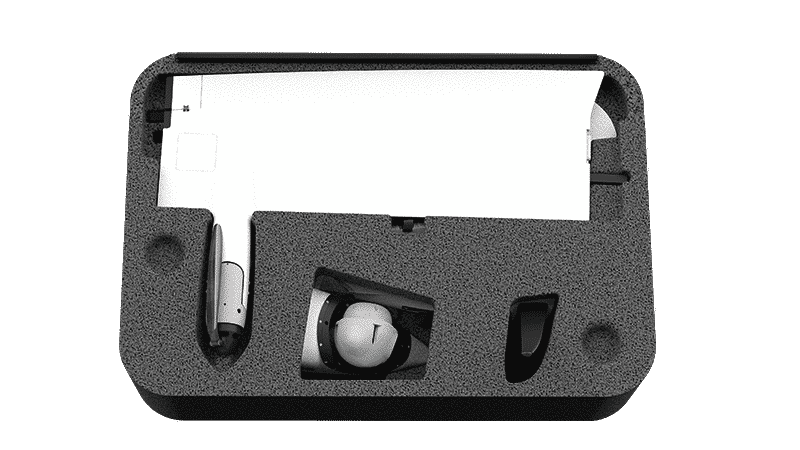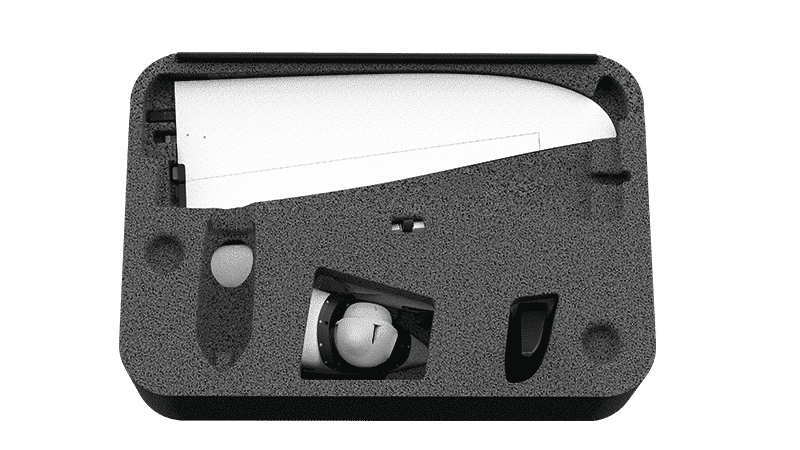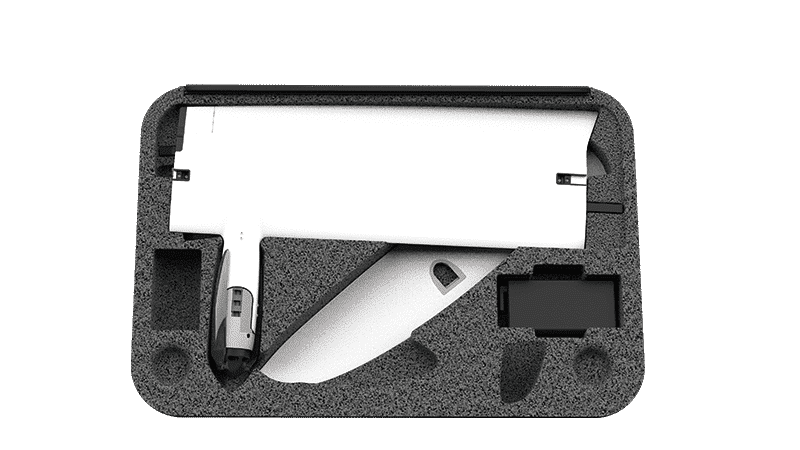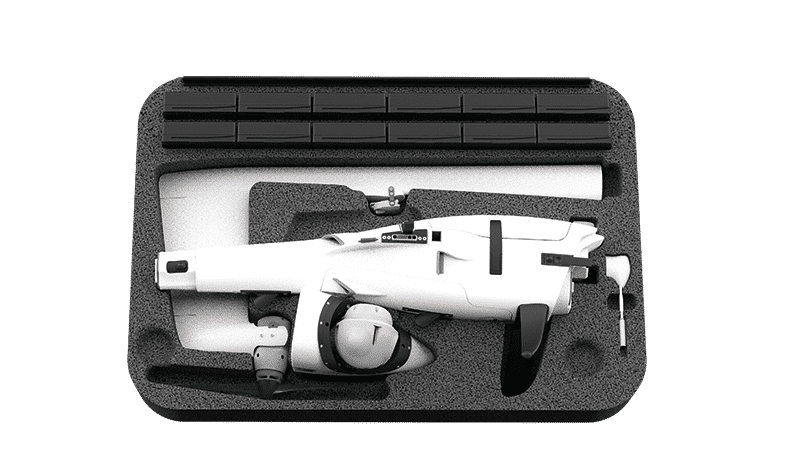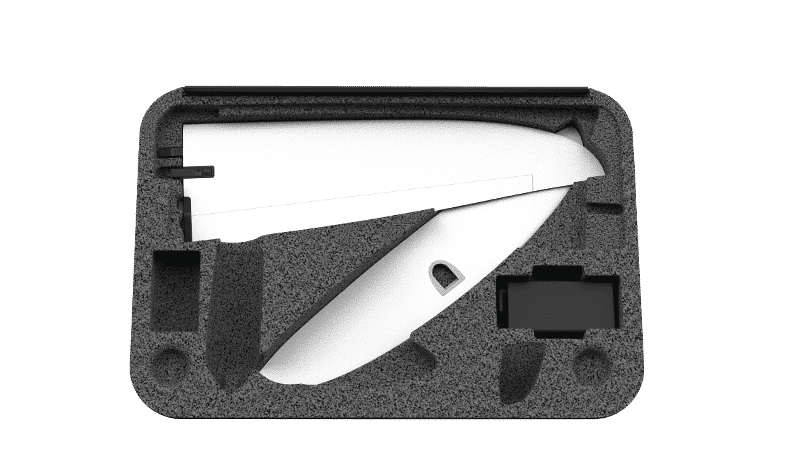 Thanks to QBase 3D, all mission relevant steps from planning to execution can be carried out intuitively by a single person. QBase 3D automatically generates efficient flight paths after the flight area and the mission parameters have been defined with a few clicks. It is also possible to launch Vector or Scorpion without having planned a mission beforehand in order to be operational quickly.
Our self-developed software allows you to dynamically adjust the mission in flight to mark targets on the map or in video before, during or after the mission, to show or detect critical points.
QBase 3D records the full mission on the GCS (including video and aircraft data) and replays it at any time, while recording is continued. The software supports the operator with warnings when the aircraft is about to exceed its limits. Overwriting them is always possible if the mission requires it – Just fly.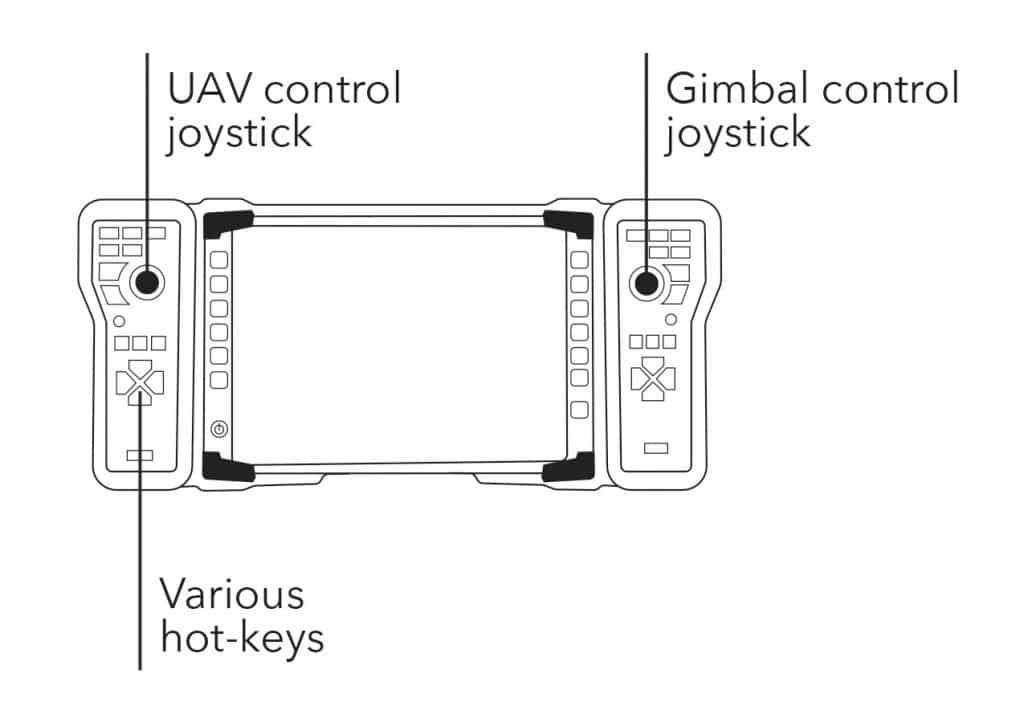 The included ground control station (GCS) is a high-performance x86 based PC in a rugged case with haptic control elements and touch screen functionality.
The display is anti-reflective and guarantees optimum sharpness of detail even under the most adverse lighting conditions. Thanks to a resistive screen, interaction in rain or with gloves is possible.
MESH IP ENCRYPTED DATA LINK
Radio communication, which meets the requirements of modern applications like search and rescue, anti-poaching, wildlife observation and maintenance of industrial facilities requires more range, data throughput and reliability than ever before. Self-healing, digital link management and automatic rerouting are no longer just options. They are a must. That is why Quantum-Systems uses a state of the art encrypted mesh IP link which delivers unprecedented performance never seen before in challenging environments.
The data link hardware consists of a robust handheld unit on the ground and an OEM module onboard the UAV. Sector antennas can boost the range to 25+ km. No tracking antenna or moving parts are necessary.
This setup enables an 128/256 bit AES encrypted 10+Mbit data stream and up to 25+ km (sector antennas) video and command & control range.
The hardware is optimized for tactical applications and comes in rugged, IP 67 rated casings. It uses sophisticated MIMO mesh network technology. The data link control is fully integrated into QBase 3D including link and power management.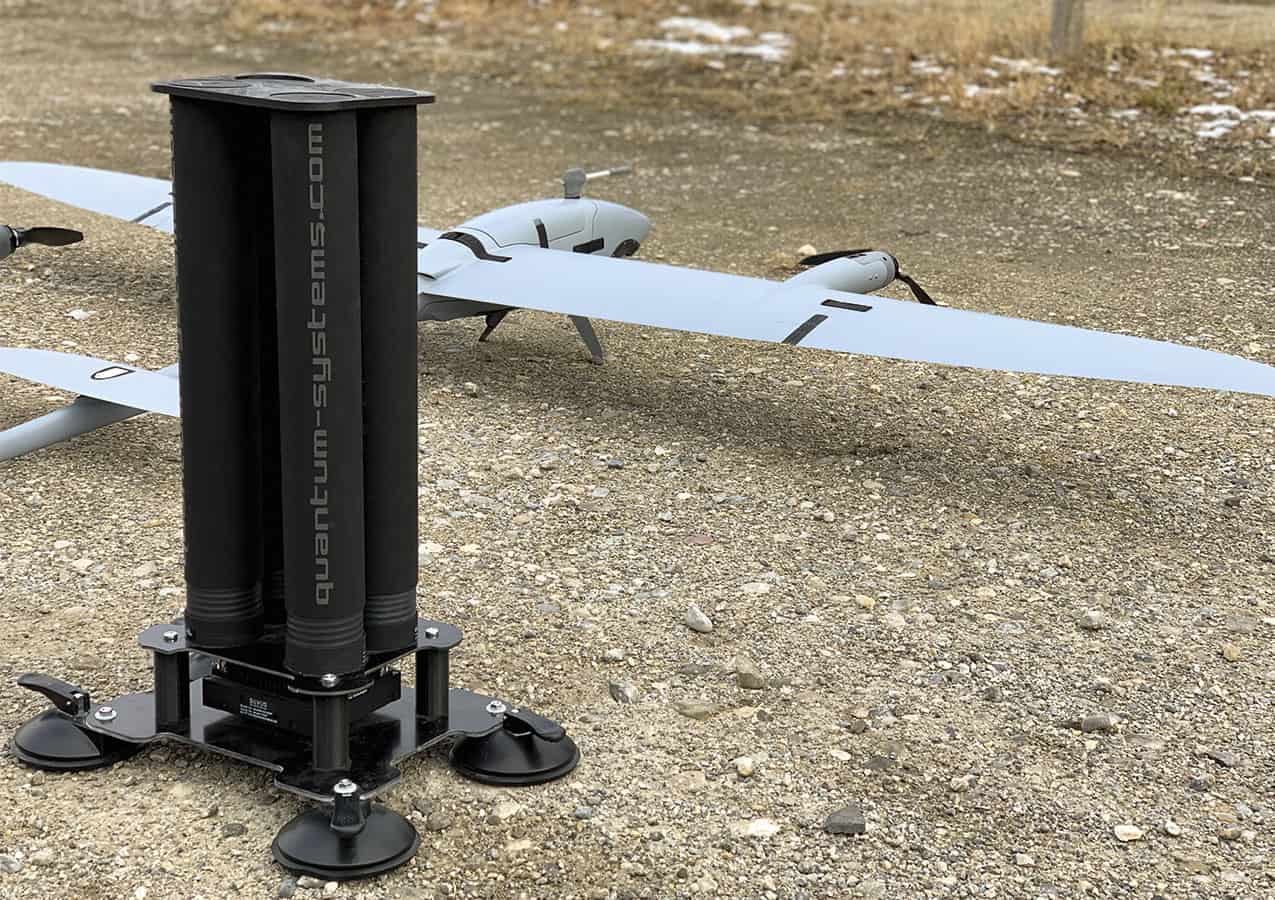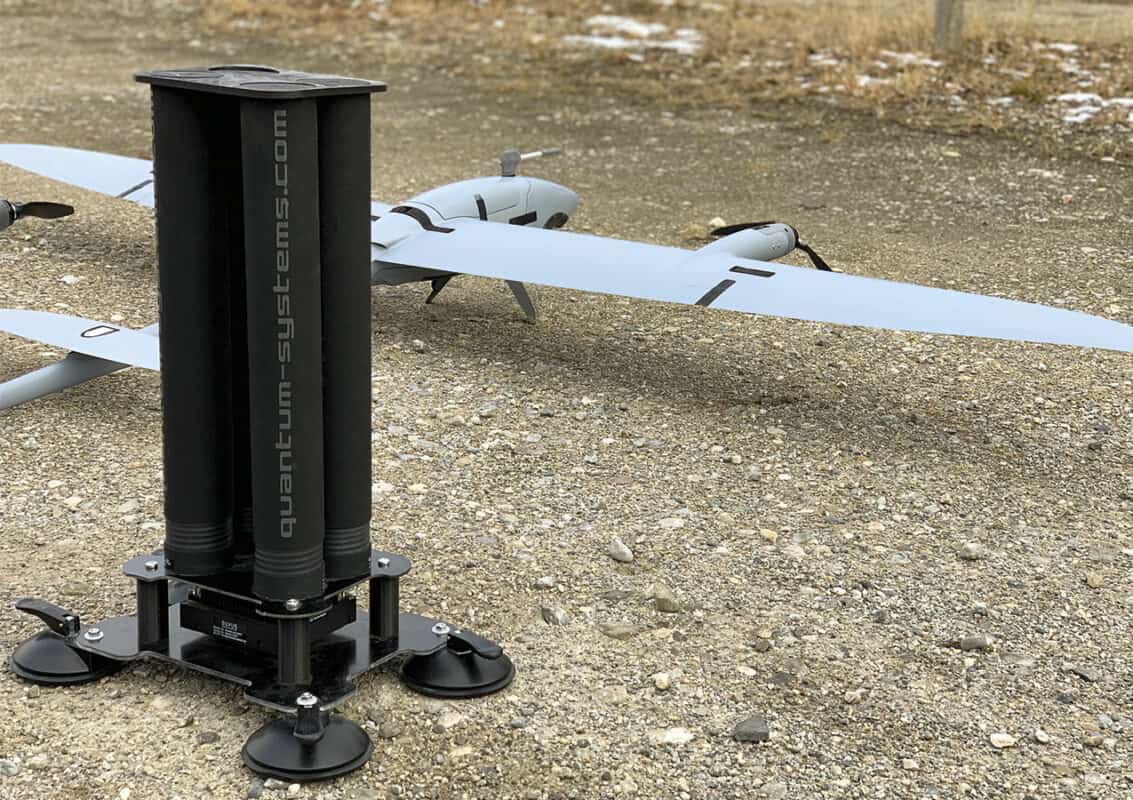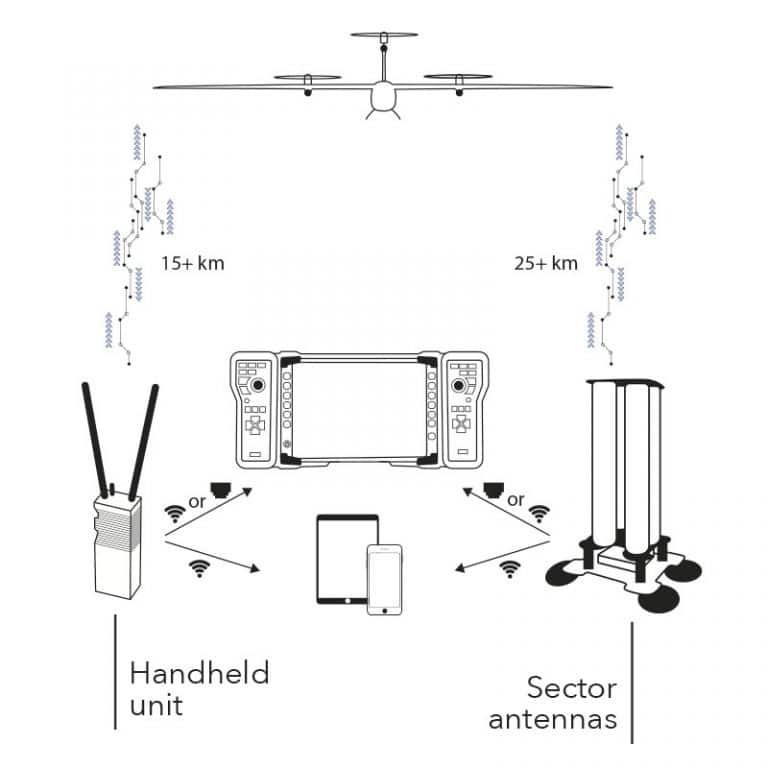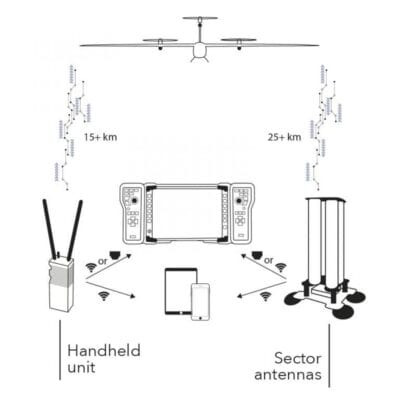 Technical specifications:
Selectable channel bandwidth: 5, 10, 20 MHz[
Different frequencies from 400 MHz – 6 GHz available
Encryption: DES56, AES/GCM 128/256
Data rate: up to 100 Mbps (adaptive)
Output power: 1mW – 4W (up to 8W with sector antennas)
Latency: 7ms average (20MHz BW)
Sensitivity: -99 dBm @ 5MHz BW
Battery life: Up to 12h (for handheld)
IP 67 housing
Select your UAS mission scenario
Providing information for validating decisions with a non invasive approach is only one of the main possible use cases for Vector & Scorpion.
The advanced EO & IR sensors provide a significant benefit for rescue and emergency services. This real time information is vital such scenarios.
2. Fire fighting & Fire prevention
4. Traffic investigation & Surveillance
6. Search for buried subjects
Technical Specs VECTOR UAV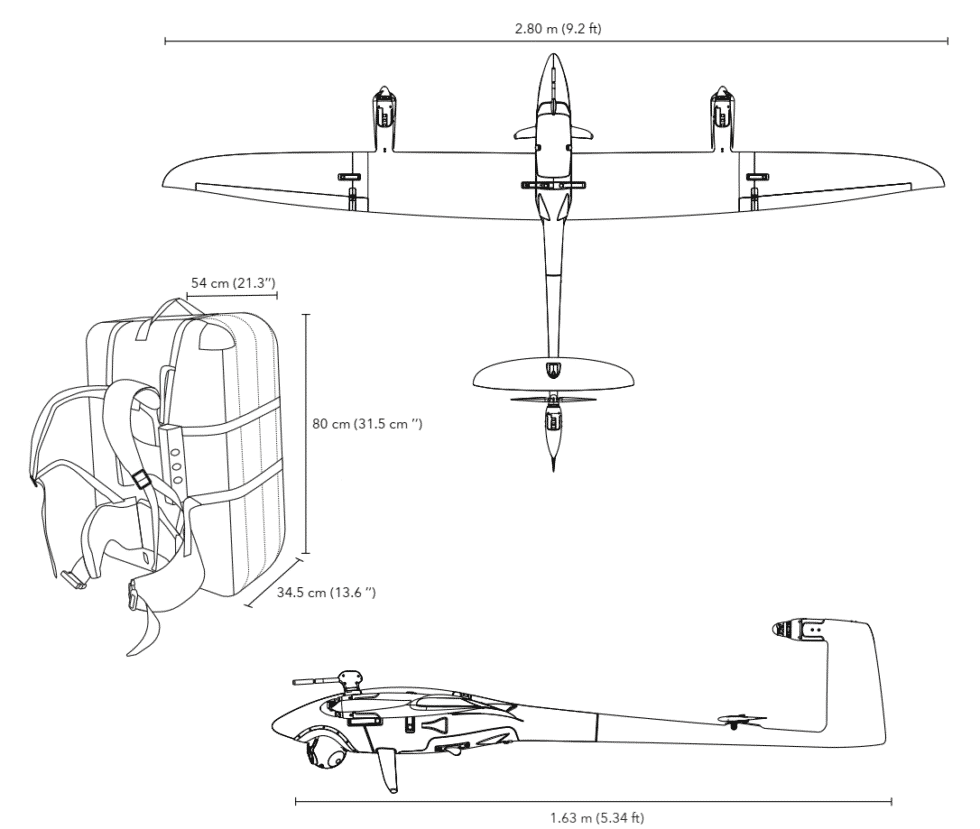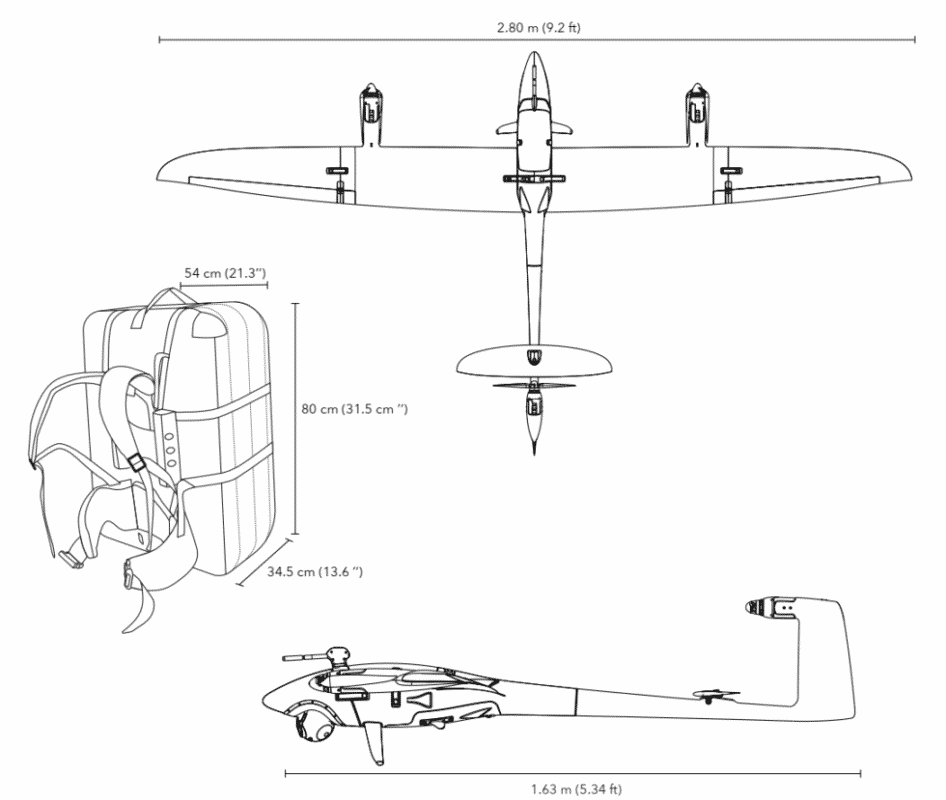 | | |
| --- | --- |
| Max. Take-off Weight | < 6.5 kg | < 13.2 lb |
| Max. Flight Time | 120 minutes |
| Command and Control Range | 15+ km (handheld unit); 25+ km (sector antennas) |
| Payload | HD40-LV EO/IR 550 g & NightHawk2 EO/IR 320 g |
| Cruise Speed | 15 – 25 m/s | 29 – 39 kn |
| Wind Resistance | max. 12 m/s | 23 kn |
| Wingspan | 2.80 m | 9.2 ft |
| Transport Case Dimension | 0.85 x 0.47 x .028 m |
REQUEST INFORMATION FOR
QS Vector/Scorpion
The manufacturer does not allow us to advertise this product's price online.
Register or Login 
You can also fill out the form below or give us a call at 800.918.9128
Our team will be happy to answer any questions you might have.