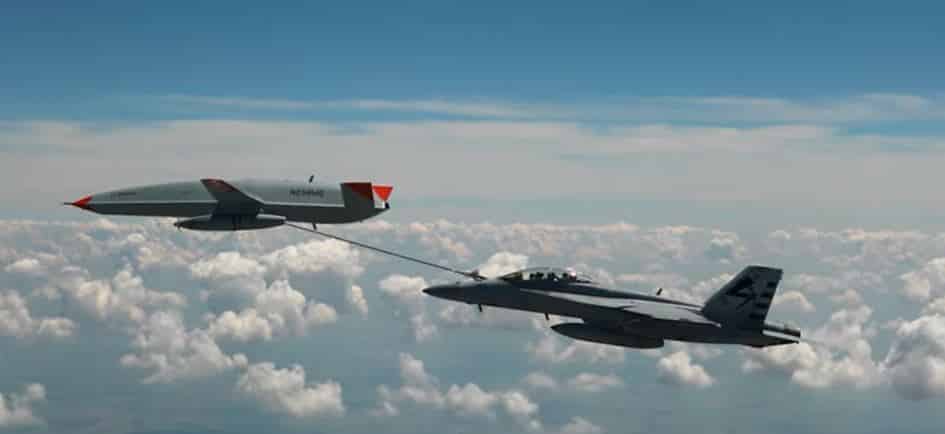 MQ-25 T1 test asset refuels a Navy F/A-18 during a flight on June 4, 2021 at MidAmerica Airport in Illinois. This flight demonstrated that the MQ-25 Stingray can fulfill its tanker mission using the Navy's standard probe-and-drogue aerial refueling method. Boeing
A prototype unmanned aerial tanker refueled a F/A-18F Super Hornet fighter last week in a first-of-its-kind test ahead of introducing drones to the Navy's carrier flight decks, Naval Air Systems Command and Boeing announced on Monday.
"During the flight, the receiver Navy F/A-18 [Super] Hornet approached the Boeing-owned MQ-25 T1 test asset, conducted a formation evaluation, wake survey, drogue tracking and then plugged with the unmanned aircraft. T1 then successfully transferred fuel from its Aerial Refueling Store (ARS) to the F/A-18," NAVAIR said in a statement.
"The milestone comes after 25 T1 flights, testing both aircraft and ARS aerodynamics across the flight envelope, as well as extensive simulations of aerial refueling using MQ-25 digital models. MQ-25 T1 will continue flight testing prior to being shipped to Norfolk, Virginia, for deck handling trials aboard a U.S. Navy carrier later this year."
The T1 took off from the airfield mid-afternoon on Friday and was followed closely by a Super Hornet assigned to the "Salty Dogs" of Air Test and Evaluation Squadron (VX) 23, Boeing and Navy officials told reporters on Monday.
The more than four-hour flight tested a variety of different approaches to the unmanned aircraft that was operated from a Boeing ground control station in radio contact with the Super Hornet.
After several dry connections between the fighter and the drone, the T1 transferred a total of 325 pounds of fuel to the Super Hornet, Dave Bujold, Boeing's MQ-25 program director said.
The flight comes after the Navy made its first test flight with the test stores in December. The T1 was originally built in 2014 by Boeing as the company's bid for the canceled Unmanned Carrier Launched Airborne Surveillance and Strike (UCLASS) program.