A DRONE DESIGNED FOR FIRST RESPONDERS AND ENTERPRISE PROFESSIONALS
Manufactured in the US – ANAFI USA offers the same high-end security, durability and imaging capabilities as Parrot's Short-Range Reconnaissance (SRR) drone designed for the US Army. ANAFI USA's data encryption and privacy features are compliant with the European Union's General Data Protection Regulation (GDPR), delivering best-in-class privacy and security for sensitive missions.
STABILIZED X32 ZOOM THERMAL IMAGERY | 4K VISUAL EXCELLENCE
When firefighters arrive on the scene of a fire, the most important need is to view hot spots while also being able to assess the entire visual scene. ANAFI USA's gimbal and advanced optics were designed with this challenge in mind. The 32x zoom is designed around two 21-megapixel cameras, allowing operators to see details clearly from up to 5 km (3.1 mi) away.
The zoom image is coupled (blended) with images from ANAFI USA's FLIR camera. This enables operators to detect hot spots with the thermal camera, while the visual camera allows them to view people and other important details from up to 2 km (1.2 mi) away.
In the example image below, the drone is flying over solar panels at an altitude of 40 m (44 yds). With ANAFI USA's powerful zoom, the pilot can detect centimetric hot spots on the solar panels.
Ensuring excellent image stabilization on 32x zoom images with a light drone (500 g/1.1 lbs) is a particularly delicate technological achievement. Parrot accomplished this feat by coupling the stabilization of the gimbal with full 3-axis digital stabilization via image processing.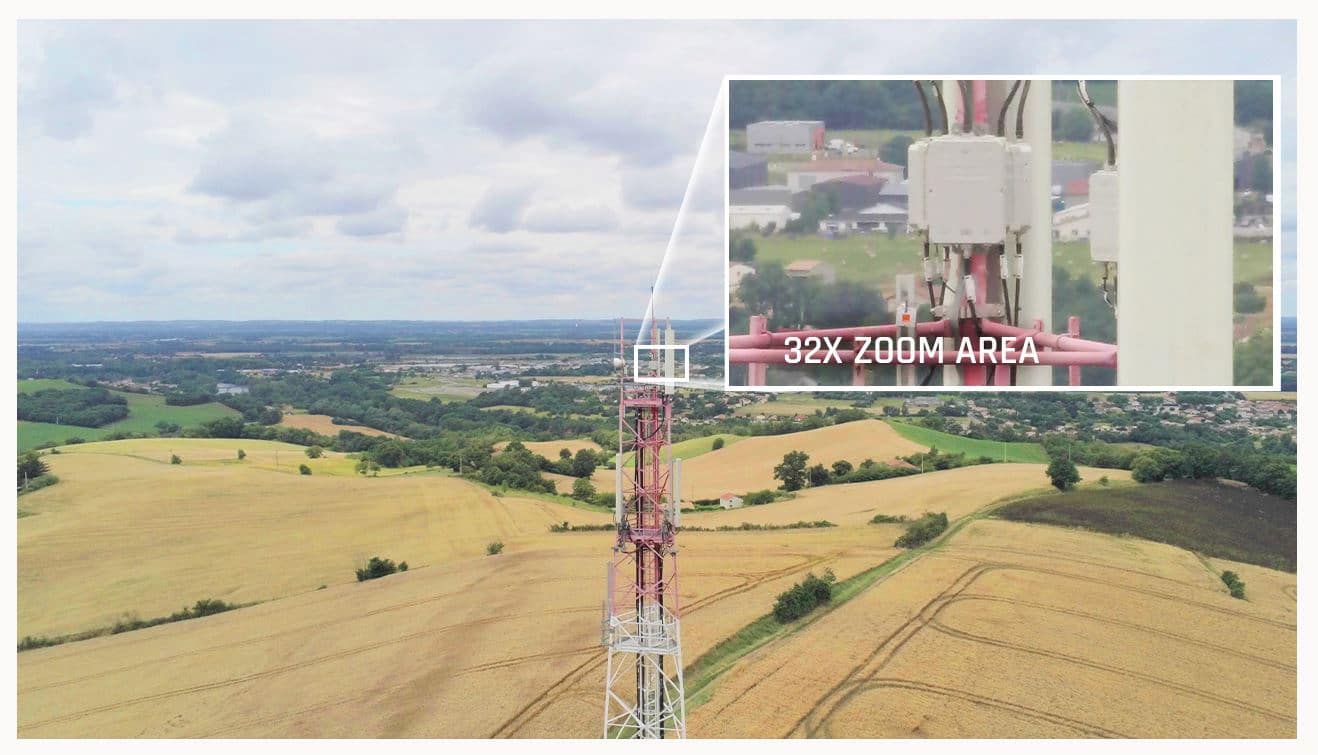 EASY TO OPERATE
For first responders and the most demanding professional users, rapid drone deployment is a necessity during missions. ANAFI USA is operational in less than 55 seconds: it takes less than 55 seconds to unfold the drone, turn it on, establish the secure radio link and take off.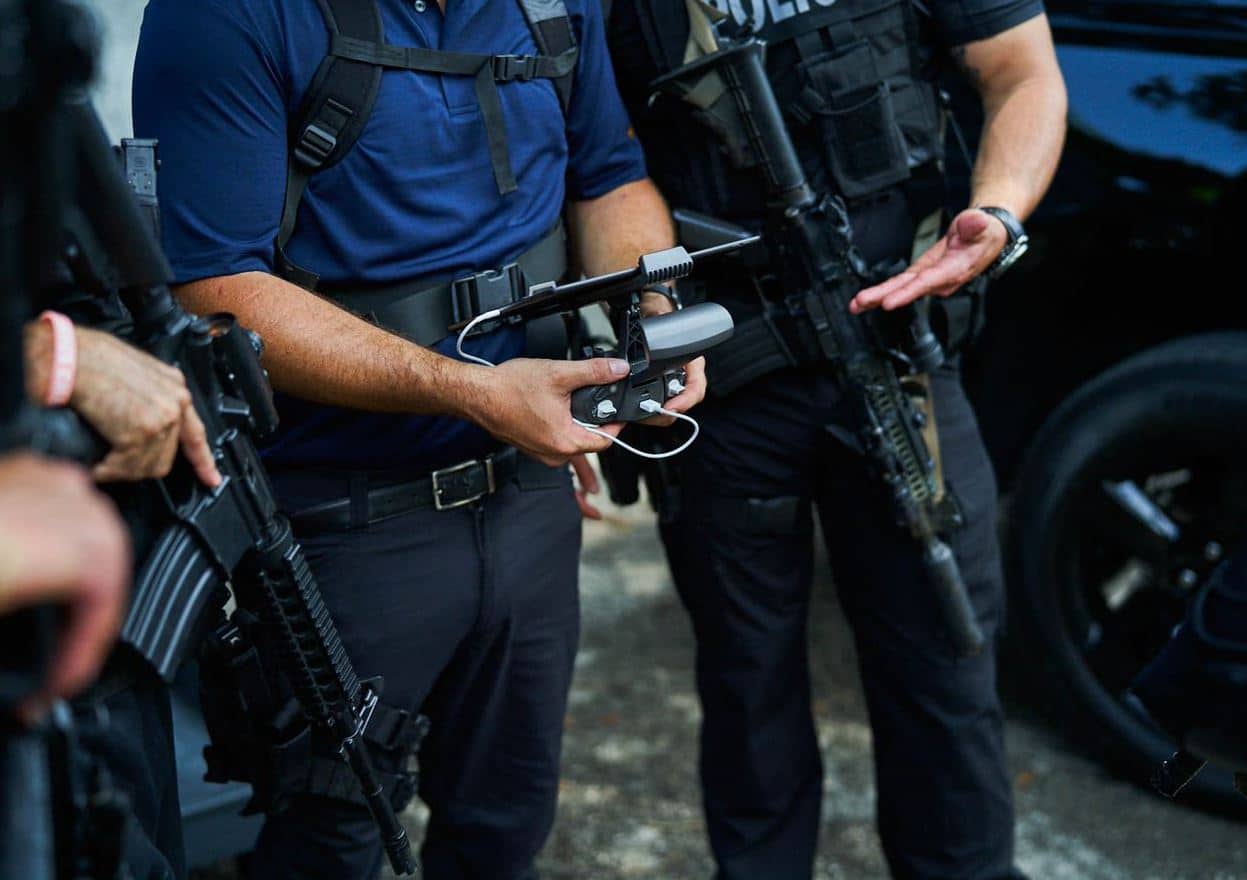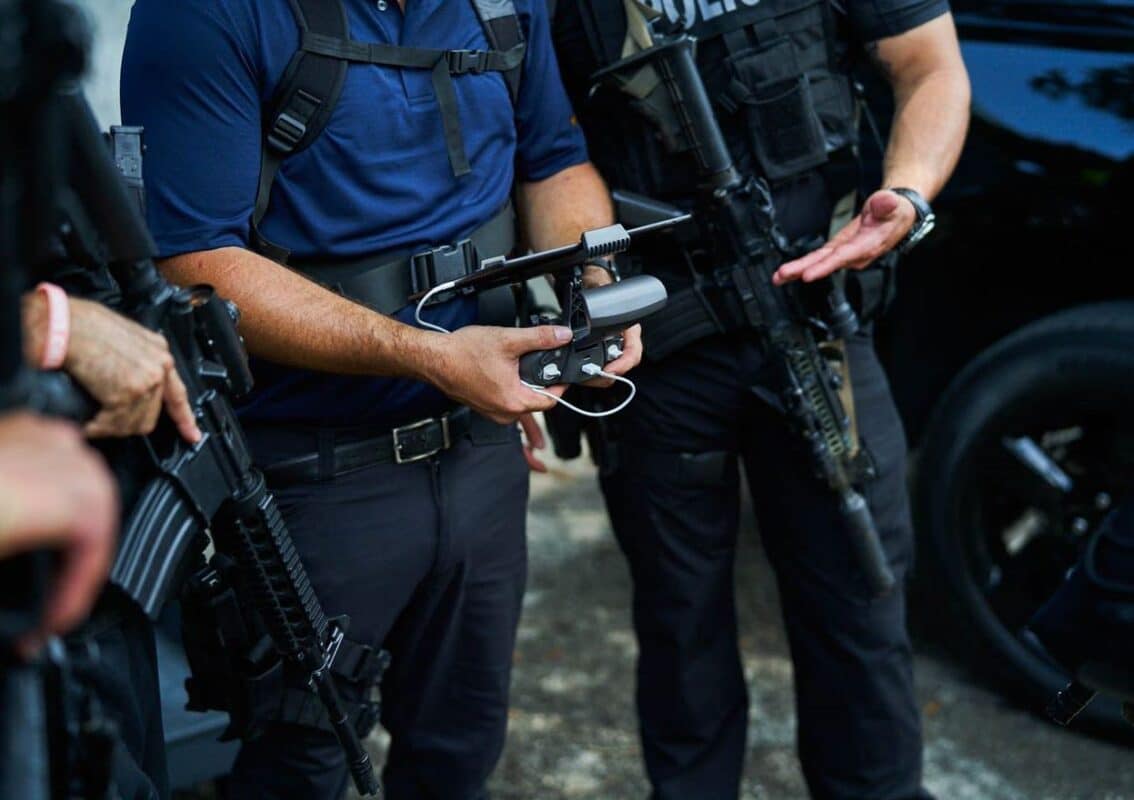 ANAFI USA works indoors without GPS, allowing operators to take off inside a house, pilot the drone through a window to fly outside, and then come back.
ANAFI USA can also launch from the palm of the hand like a paper plane, further expanding its ease of use.
With no built-in limitations for no-fly zones, ANAFI USA gives first responders the freedom to fly responsibly at a moment's notice and wherever their missions may take them.
ANAFI USA is the quietest drone in its class, with a sound level of just 79 dB when it is at 50cm off the ground.
It uses a standard USB-C type charger for hassle-free convenience.
Weighing in at just 500 g (1.1lb) the compact ANAFI USA folds easily for maximum portability. Despite its compact design, ANAFI USA boasts a 32-minute flight time – also best in class for a drone of its size.
TRUSTED AND SECURE – ANAFI USA PUTS SECURITY FIRST FOR PROFESSIONAL USERS
Photos and videos are encrypted on its SD card, using an AES-XTS algorithm with a 512-bit key length. ANAFI USA's Secure Digital (SD) card encryption feature ensures that saved data cannot be read if the drone or SD card is lost or stolen. Once encrypted, data can only be read with the decryption key.
ANAFI USA also includes a secure WPA2 Wi-Fi connection. WPA2 provides authentication and encryption of the link between the remote controller and ANAFI USA.
Signed firmware prevents any malicious modification of the drone software.
Parrot uses trusted standards and open protocols (such as Wi-Fi, WPA2, RTP/RTSP, H.264, and GUTMA) to ensure the utmost interoperability and security for all recorded data.
Users can choose to share data by opting in via the FreeFlight 6 app. No data is shared by default without the consent of the user. After opting-in to the feature, flight data and logs are stored on secure servers in Europe in addition to local copies of the data on the drone. The drone's features are fully compliant with the European Union General Data Protection Regulation (GDPR).
NEW FLIGHT FEATURES
ANAFI USA's advanced flight features are designed to meet the unique needs of enterprise drone users. Powered by Parrot's acclaimed FreeFlight 6 piloting software, pilots have multiple easy-to-use flight options. ANAFI USA's flight routes can be set by coordinates in assisted framing or executed autonomously.
The ability to create a flight plan with pre-set automatic flights and target-tracking make it easy for the entire team to carry out missions.
Featuring an editable "Return to Home" (RTH) feature, the drone allows users to program a specified "home" location for easy mission wrap-up. This RTH feature automatically occurs when the drone disconnects or is running low on battery to help protect your organization's investment.
ANAFI USA captures the precise GPS coordinates of the drone and the point of interest, offering detailed location information to help operation leaders on the ground quickly locate targets such as missing persons or hazardous materials.
SOFTWARE ECOSYSTEM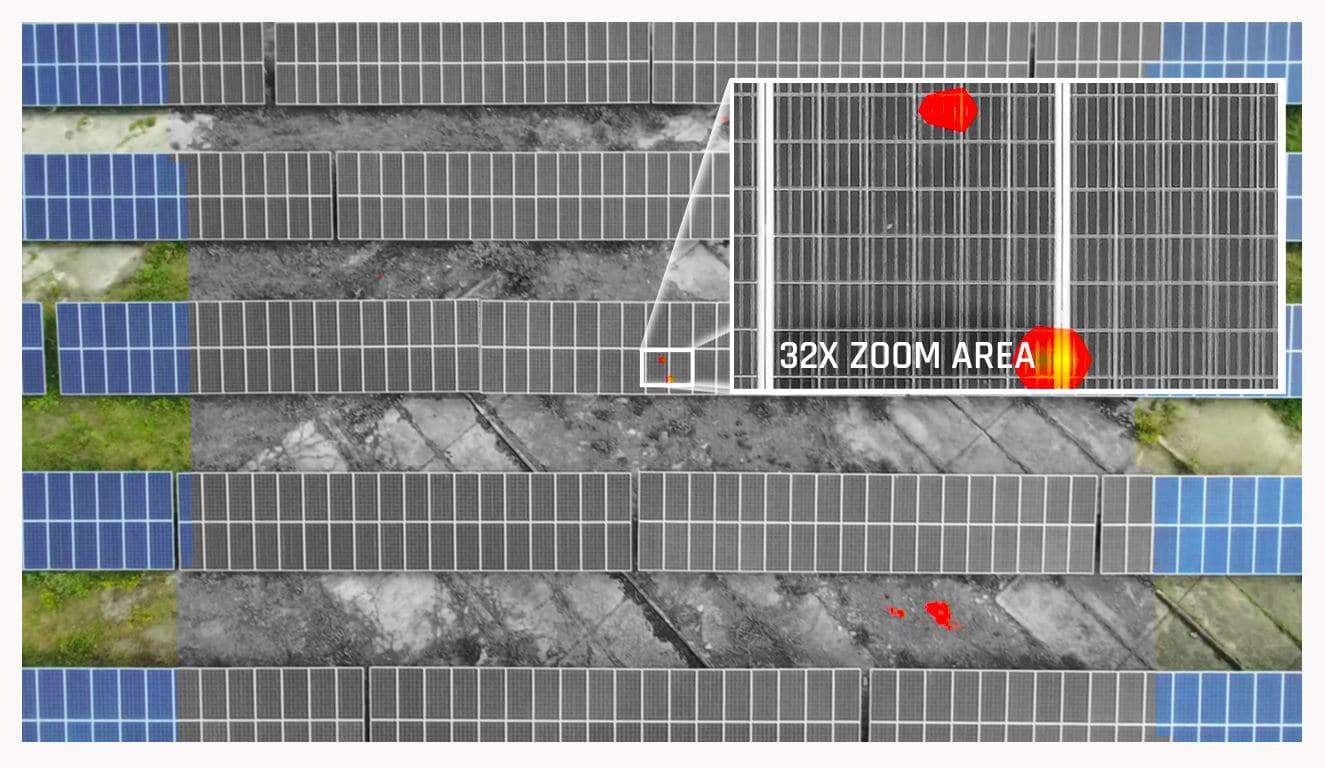 Compatible with the industry-leading mapping software Pix4Dreact, ANAFI USA allows first responders to quickly transform images into precise 2D maps on a laptop.
Through its open-source SDK and use of industry-standard protocols, ANAFI USA supports a growing ecosystem of professional applications and services, such as Survae (smart searching and visualization platform connecting video, images, and sensor data to interactive maps and timelines), DroneLogbook (compliance and fleet management), Kittyhawk (compliance and security for enterprise UAS fleet and airspace management.), DroneSense (comprehensive drone management platform enabling public safety organizations to build, manage, and scale their unmanned aircraft programs), Planck AeroSystems (autonomous landing on a moving vehicle), and Skyward, A Verizon company (aviation management platform, including airspace, LAANC access, as well as training, hardware, and connectivity for enterprise drone fleet deployments).
Other partners are working hard to join the ecosystem in the coming months, making ANAFI USA a reference platform for professional use.
AN EO/IR SYSTEM FOR DAY & NIGHT ENHANCED SITUATIONAL AWARENESS
A CMOS 1/2 . 4''sensor and EO (electro – optical) tele – camera for a x32 stabilized zoom and stealth observation capabilities
A FLIR Boson® 320 longwave infrared (LWIR) thermal camera: 320×256 resolution, 50° HFOV, temperature range – 10° to +150°C
A CMOS 1/2 . 4''sensor and EO wide camera for visible spectrum short range reconnaissance
Records visible and thermal photos and videos (video quality: 1280x720p in thermal spectrum / up to 4K HDR in visible spectrum)
Replay, edit and analyze thermal media from the drone on the device, without downloading
Hybrid 3 – axis stabilization (2 – axis mechanical stabilization and 3 – axis digital stabilization)
Gimbal tilt range from – 140° (beyond nadir) to +110° (over zenith)
TRUSTED  AND SECURE – MADE IN USA, ENCRYPTION READY
Designed for the US Army, the drone is manufactured in Massachusetts, USA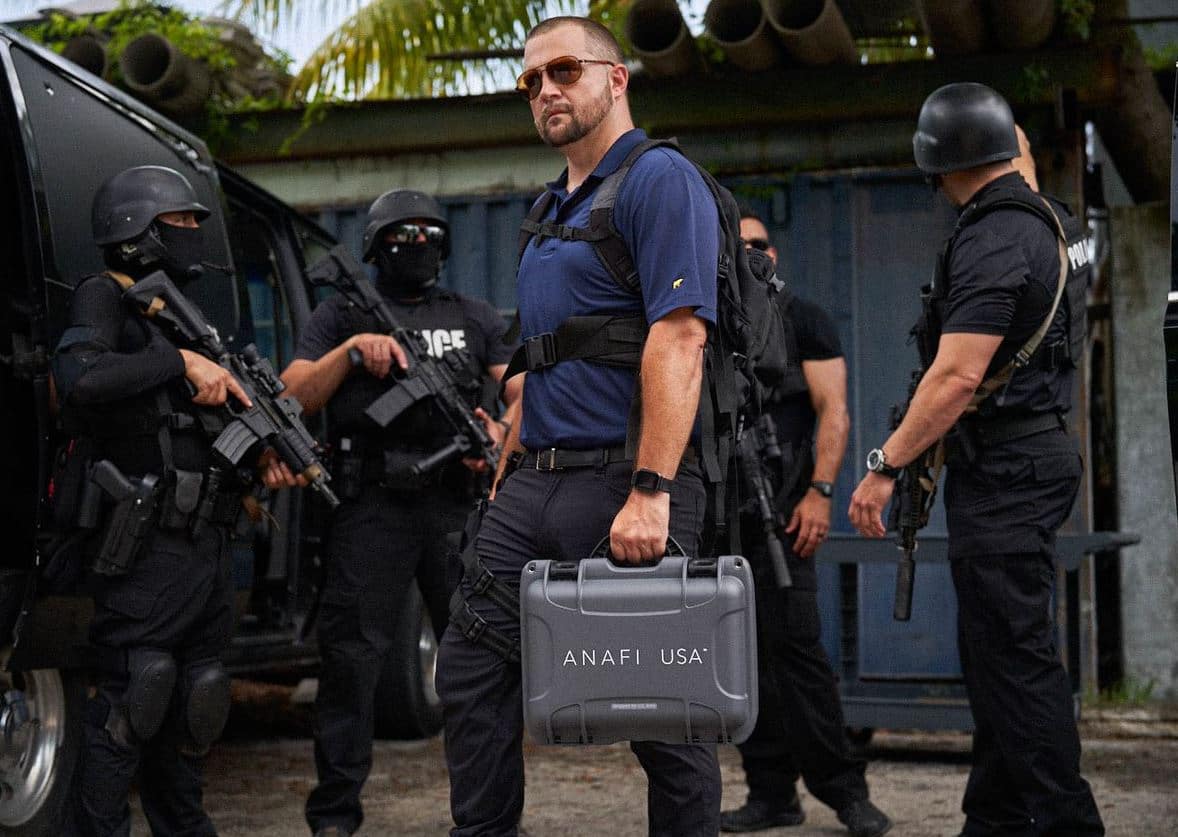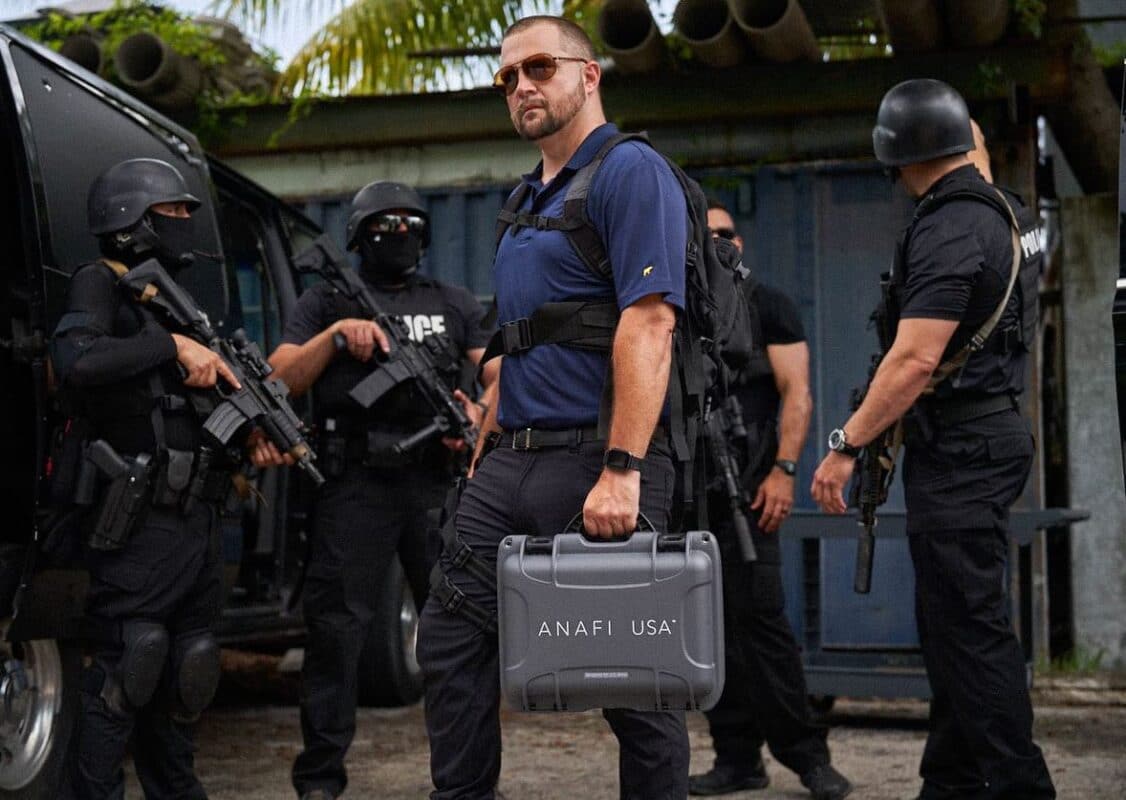 Full AES 512 bits media and disk encryption, for complete data protection in case of loss or theft
WPA2 connection authentication and encryption
Users keep full control over their data
Anonymous flight data stored in secured European servers (if shared by user)
A RUGGED AND COMPACT, ALL-MISSION PLATFORM
IP53 CERTIFIED TO FLY IN RAIN AND DUST, ULTRA-PORTABLE, TAKES OFF IN SECONDS
IP53 certified (5 against solids: dust protected / 3 against liquids: sprayed water and rain protected)
Flies in winds up to 14,7 m/s
Each battery flies ANAFI USA 32 min
Takes as little as 2h to charge
Deployed and stored in under a minute
DURABLE, RELIABLE AND ACURATE
PART OF THE ROBUST FREEFLIGHT 6 ECOSYSTEM, COMPLETE WITH MISSION-SPECIFIC FEATURES
Powered by FreeFlight 6, ANAFI's acclaimed piloting software
Fly by coordinates in assisted framing or full autonomous flights: define points of interest (POI), waypoints (WP) and landing points with their satellite navigation coordinates (GPS, GLONASS, GALILEO)
Visual tracking empowered by proprietary deep neural network and machine learning AI
Direct onscreen reading of scene coordinates
Drag and drop an RTH point on the map
Interfaces easily with Pix4Dcapture & Pix4Dreact (fast offline 2D mapping) solutions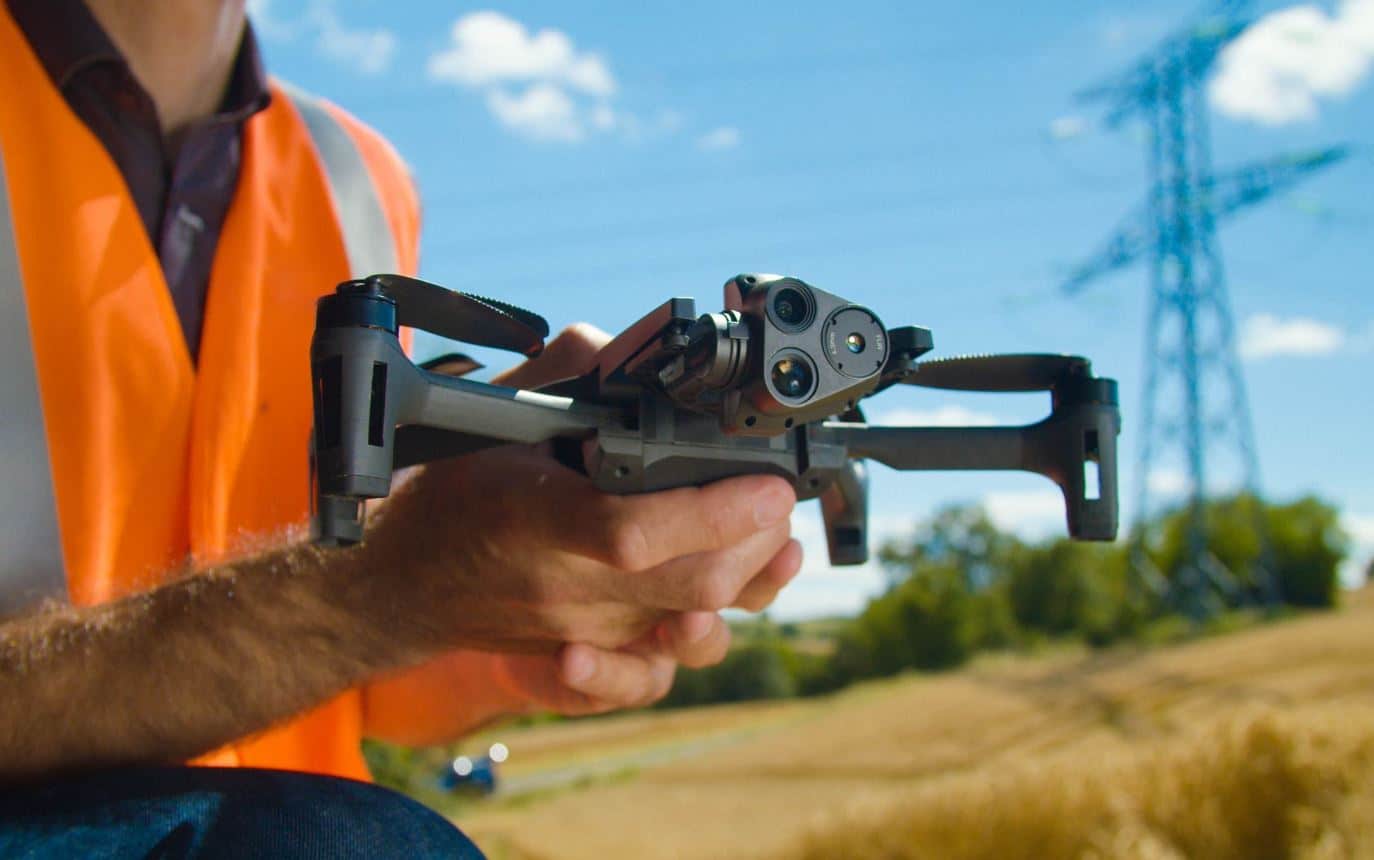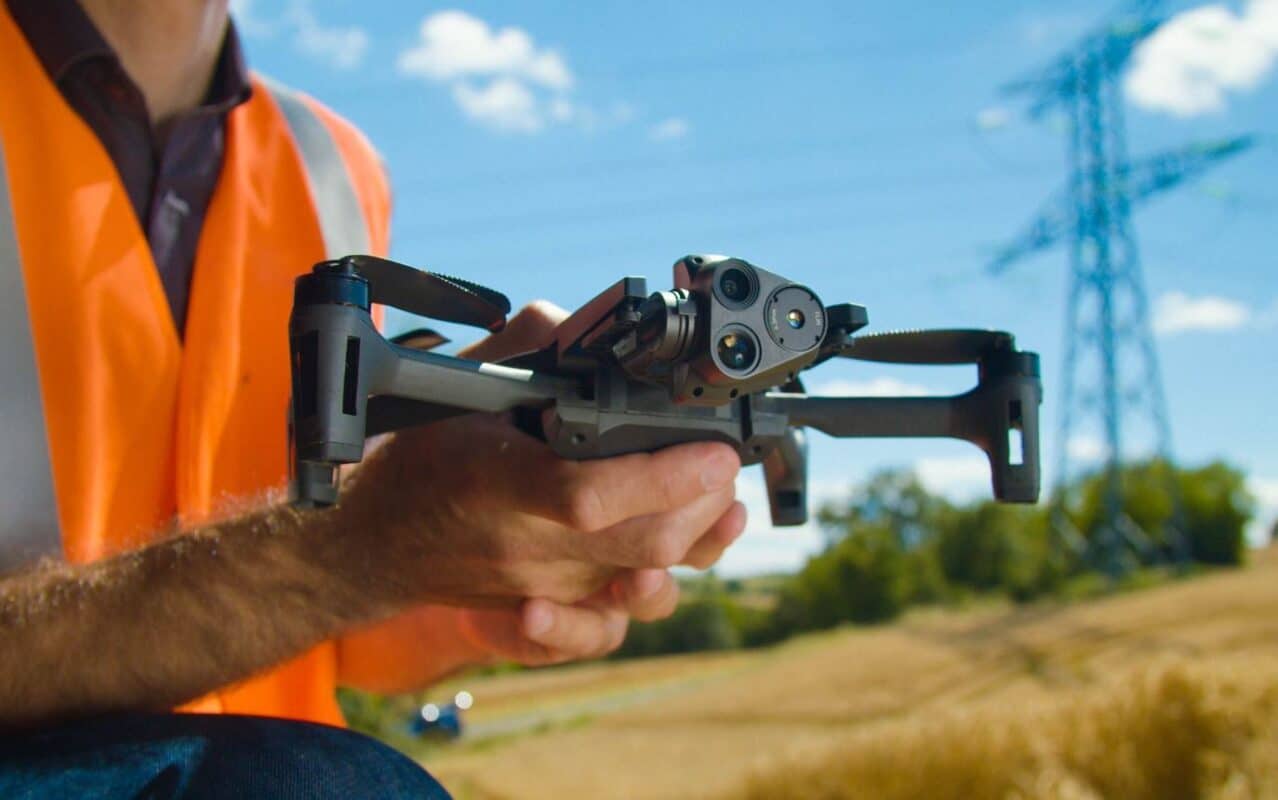 Consult with our team – Call (800) 918-9128