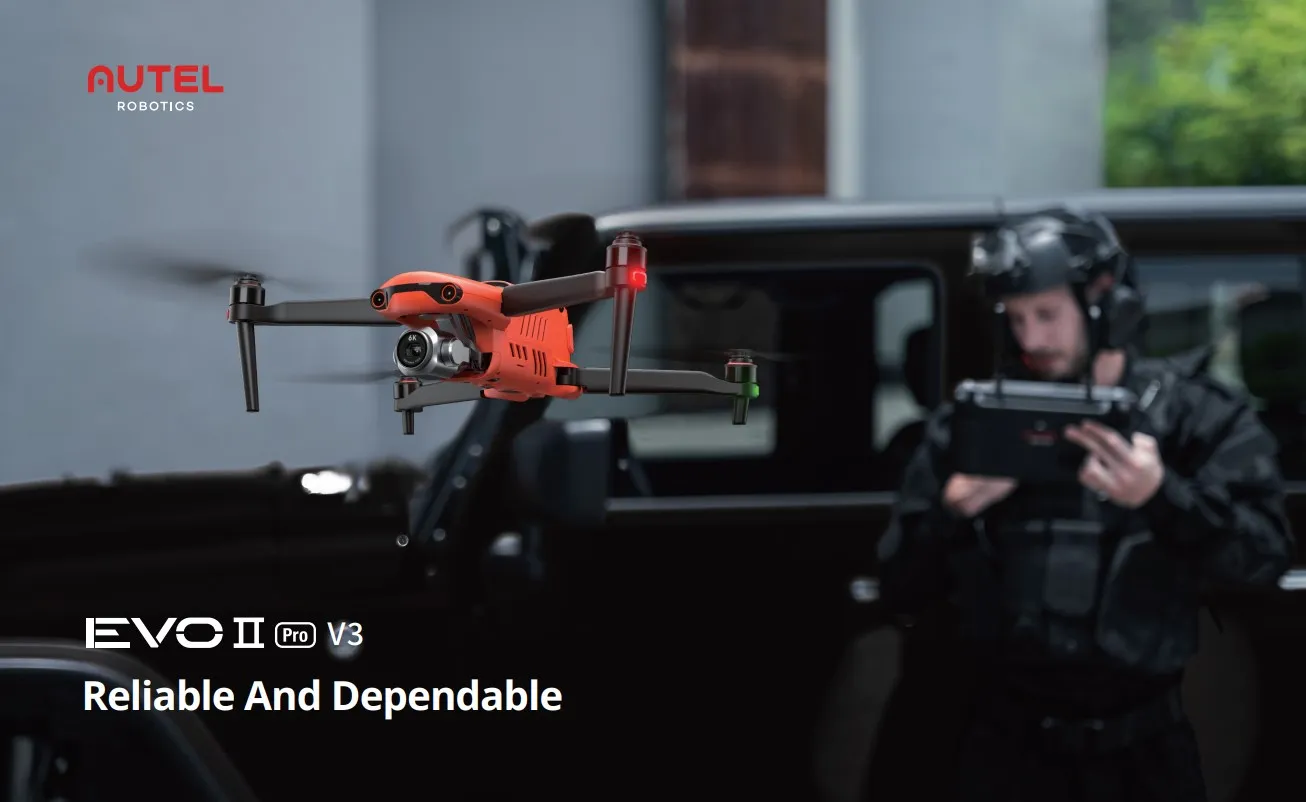 Autel EVO II Pro 6K Rugged Bundle V3
Combining high-end optics and digital processing with a rugged airframe, the EVO II Pro 6K Rugged Bundle V3 from Autel Robotics provides filmmakers with professional aerial imaging results. The Sony 20MP 1″ CMOS sensor and adjustable f/2.8 to f/11 aperture give onsite flexibility, while 4K HDR and 6K mobile time-lapse, 12-bit DNG photos, and 68.6 billion color video expand what's possible during post-production. Even low-light footage is possible using Moonlight Algorithm 2.0. Capturing your footage is made to be safe and easy thanks to the included Smart Controller SE and integrated 360° obstacle avoidance.
Adaptability and versatility for every lighting environment
The EVO II Pro's advanced camera settings include an adjustable aperture range of f2.8 to f11 and a maximum ISO of 12,800 enabling the photographer to produce images of exceptional precision and sharpness.
Exceptional imaging, even at night
Looking for a high-end camera that will help enhance your creative freedom and offer stronger noise suppression (even in low-light conditions) than ever before, then look no further. 
With its adjustable aperture range from f2 8mm to 11 plus maximum ISO reaching 44000, this device gives you all you need in order achieve the desired results without fear of error or compromise.
The drone combines the brilliance of 4K clarity with the brightness, color, and detail of High Dynamic Range for the best possible image quality (HDR). Areas of heavy shade and sunlight that had previously been concealed are now crystal clear and detailed.
Maximum performance with uncompromised safety
With Autel's brand-new SkyLink 2.0 Video Transmission technology, your EVO II Pro 6K V3 may go up to 15 kilometers. Even better, your flight can stretch to a maximum of 40 minutes thanks to the powerful battery that comes with the package.
Within one kilometer, get crucial information with QHD video. In addition, you benefit from tri-band communication and frequency hopping for maximum anti-interference capability.
The drone has 19 sets of sensors, including 12 visual sensors, the primary camera, ultrasonography, IMUs, and other sensors. three-dimensional maps may be built and real-time path planning is made possible. All these make flying safe for your peace of mind.
Superior image quality in low and limited lighting conditions
Supporting video resolutions up to 6K with greater dynamic range, and stronger noise reduction, the EVO II Pro uses the Sony's latest generation of supersensitive CMOS sensor to achieve impressive low-light photography.
Easy and smart controls
This Autel EVO II Pro 6K Rugged Bundle V3 comes with the Smart Controller SE, an RC that features an 8-core processor and a 6.4-inch OLED touch screen for HD picture transmission. 
With triple band frequency hopping, the preinstalled SkyLink 2.0 Transmission technology increases anti-interference capabilities while ensuring long-distance operations from up to 15 km distant. 
The modified Android operating system offers more freedom with third-party apps, and an IP43 grade assures functioning in all weather conditions.
Maximum Performance Endless Possibilities
Deploy Rapidly
The EVO II Pro V3 takes 45 seconds from launch to takeoff without fuss.

No Fly Zones**
EVO II Pro V3 does not have any no fly zones and will not prevent the pilot from taking off.
No Forced Updates*
EVO II Pro V3 does not need to be on the latest hardware or app version in order to take off unlike other competitors.
Autel EVO II Pro 6K Rugged Bundle Specs

Aircraft
Takeoff Weight
(without Accessories)
2.45 lbs (1,110 grams)
Diagonal Length
16.8 in (427 mm)
Max Flight Time (no wind)
42 minutes (without accessories)
Max Hovering Time (no wind)

38 minutes (with strobe)




29 minutes

 

 (with spotlight)




34 minutes (with loudspeaker)




36 minutes (with RTK module)

Max Level Flight Speed

45 mph (20 m/s) (Ludicrous)

Max Ascent Speed

18 mph (8 m/s (Ludicrous)

Max Service Ceiling Altitude
4.3 miles (7000 m) MSL
Operating Temperature Range
14°F to 104 

°F (-10

 

°C to 40

 

°C)

Max Wind Speed Resistance
39-46 mph (17-20 m/s)
Operating Frequency
2.400 GHz – 2.4835 GHz
5.725GHz – 5.850 GHz
Hovering Accuracy Range
Vertical:
± 0.1 m (with RTK)
± 0.1 m (with Vision Positioning)
± 0.5 m (with GPS Positioning)
Horizontal:
± 0.1 m (with RTK)
± 0.3 m (with Vision Positioning)
± 1.5 m (with GPS Positioning)
Gimbal
Operation Range
Pitch: -135° to +45°
Yaw: -100° to +100°
Stability
3 Axis Stabilization
Max Controller Speed (Tilt)
300°/s
Angular Vibration Range
±0.005°
Sensing System
Sensing System Type
Omnidirectional Binocular Sensing System
Forward
Accurate Measuring Range: 0.5 – 20m
Detection Range: 0.5 – 40m
Effective Sensing Speed: < 15 m/s
FOV: Horizontal: 60°, Vertical: 80°
Backward
Accurate Measuring Range: 0.5 – 16m
Detection Range: 0.5 – 32m
Effective Sensing Speed: < 12 m/s
FOV: Horizontal: 60°, Vertical: 80°
Upward
Accurate Measuring Range: 0.5 – 12m
Detection Range: 0.5 – 24m
Effective Sensing Speed: < 6 m/s
FOV: Horizontal: 65°, Vertical: 50°
Downward
Accurate Measuring Range: 0.5 – 11m
Detection Range: 0.5 – 22m
Effective Sensing Speed: < 6 m/s
FOV: Horizontal: 100°, Vertical: 80°
Sides
Accurate Measuring Range: 0.5 – 12m
Detection Range: 0.5 – 24m
Effective Sensing Speed: < 10 m/s
FOV: Horizontal: 65°, Vertical: 50°
Service Environment
Forward, Backward and Sides:
Surface with clear pattern and adequate lighting (lux > 15)
Upward:
Detects diffuse reflective surfaces (>20%)(walls, trees, people, etc.)
Downward:
Surface with clear pattern and adequate lighting (lux > 15)
Detects diffuse reflective surfaces (>20%)(walls, trees, people, etc.)
Camera
Camera
EVO II Pro
Sensor
1-inch CMOS, 20MP effective pixels
FOV
82°
Aperture
f/2.8 – f/11
Focus Range
1m to ∞
Equivalent Focal Length
28.6mm
ISO Range
Video: 100-6400 (auto)
Photo: 100-12800 (auto)
Zoom
1-8x (up to 3x lossless zoom)
Still Photography Modes
Single Shot
Burst shooing: 3/5 frames
Automatic Exposure Bracketing (AEB):
3/5 bracketed frames at 0.7 EV Bias
Timelapse:
JPG:2s/5s/7s/10s/20s/30s/60s
DNG:5s/7s/10s/20s/30s/60s
HyperLight:support (under 4K JPEG format)
Long Exposure: Max 8s
HDR imaging: (under 4K JPEG)
Still Photography Resolution
5472*3648 (3:2)
5472*3076 (16:9)
3840*2160 (16:9)
Video Format
MP4 / MOV (MPEG-4 AVC/H.264, HEVC/H.265)
Video Resolution
6K 5472*3076 p30/p25/p24
4K 3840*2160 p60/p50/p48/p30/p25/p24
2.7K 2720*1528 p120/p60/p50/p48/p30/p25/p24
1080p 1920*1080 p120/p60/p50/p48/p30/p25/p24
Max Bitrate
120Mbps
Remote Controller
Operating Frequency
902-928 MHz; 2.400-2.4835 GHz; 5.725-5.850 GHz
Max Transmission Distance (unobstructed, free of interference)
FCC: 13km; CE: 7km
Transmitter Power (EIRP)
902-928 MHz
FCC:≤30dBm
2.400-2.4835 GHz
FCC:≤30dBm
CE:≤20dBm
5.725-5.850 GHz
CE:≤14dBm
Internal Storage
128GB
Video Output Port
HDMI
Built-in Battery
Name: Intelligent Li-ion battery
Capacity:5800mAh
Voltage:11.55V
Battery Type:Li-ion
Battery Energy:67 Wh
Charging time:120 min
Battery Life
~ 3hr (Max. intensity)
~ 4.5hr (50% intensity)
Operating Temperature
-20℃ to 40℃
RC Size
303 x 190 x 87 mm (Ant. folded)
303 x 273 x 87 mm (Ant. unfolded)
Weight
1150g (Without protective case)
1250g (With protective case)
Satellite Positioning Module
GPS + GLONASS + Galileo
Accessories
Strobe
Dimensions:39*72*34 mm
Weight:19.5 g
Connections:Floating Connectors
Power:Avg. 1.6W
Controllable Range:5000 m
Light intensity:Min 50cd;Max 486cd;Avg. 290cd
Loudspeaker
Dimensions:46*80*77 mm
Weight:98.5 g
Connections:Floating Connectors
Power:Max 18W
Decibel:120dB @ 1m;88dB @ 60m;70dB @ 110m
Max Bitrate:36kbps
Adjustable Angle Range:0°~45°
Spotlight
Dimensions:48.5*72*63 mm
Weight:77 g
Connections:Floating Connectors
Power:Max 35W
Controllable Range:30 m
Adjustable Angle Range:0°~90°
Illuminance:FOV14°, Max:11lux @ 30m Straight
RTK Module (Optional)
Dimensions:55.5*72.5*57 mm
Weight:59.5 g
Connections:Floating Connectors
Power:~ 3W
RTK Positioning Precision:1.5 cm + 1 ppm((Vertical); 1 cm + 1 ppm(Horizontal)
Battery
| | |
| --- | --- |
| Capacity | 7100 mAh |
| Voltage | 11.55 V |
| Battery Type | LiPo 3S |
| Energy | 82Wh |
| Net Weight | 365g |
| Charging Temperature | 5~45℃ |
| Storage Temperature & Humidity | -10~30℃,65±20%RH |
| Recommended Storage Temperature | 22~28℃ |
| Max Charging Power | 93 W |
| Charging Time | 90 minutes |
Charger
Input
100-240 V, 50/60 Hz, 1.5A
Output
13.2 V ⎓ 5 A
5V⎓3A 9V⎓2A 12V⎓1.5A
Voltage
13.2 ± 0.1 V
Rated Power
66 W
Consult with our team – Call (800) 918-9128